Part exchange: how to get the most money for your car
Is it best to part exchange your car? Our handy guide will tell you how to get the most cash for your car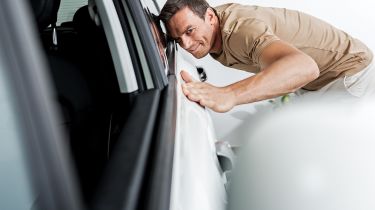 If you're on the lookout for a new car to buy, there's a good chance you've got an old motor to sell.
Just as there are a number of ways to buy a new car, so there are various options for shifting the one it's replacing. Should you part-exchange at the dealer, use a car-buying company, or sell it privately through the classifieds?
Whichever of these routes you take, there is one golden rule that should help you maximise the amount of money you get for your old car: preparation is key.
Our guide to dealing with your outgoing vehicle looks at the selling options available and advises you of the steps you can take to make it more appealing to potential buyers.
Trade versus private
This is the first decision most people will have to make when getting rid of their old car: should you sell it privately, or to a business?
The advantages and disadvantages of each route are fairly well known, but can roughly be distilled as follows:
• Selling privately is more work and carries a greater number of potential pitfalls, but offers the best chance of maximising the amount you will get for your car.
• Selling it to the trade will typically bring in less cash, but carries fewer risks and is less hassle.  
Trade routes     
1. Trade in with your new car's dealer
This is the most convenient route because it allows you to arrive at the dealer in your old car and leave in your new one, without having to make any logistical arrangements.
The dealer will want to shift your old car on as quickly and as profitably as possible. It will either sell it on its forecourt to a private buyer, sell it directly to another garage or send it straight to auction. Either way, the dealer will offer the lowest price it can because it will want to turn a profit on the car – profit that could fund discounts elsewhere in the deal.
2. Use a car-buying company
Another option is a car-buying website. A number of these firms exist and many promise to beat any part-exchange valuation, without adding much more inconvenience.
The typical process is to enter your car's registration number into the company's website, detail its condition, then head to a sales location to finalise the deal in person.  
Your car's condition is key to the price you'll get. Say it's in excellent condition when it's got parking dings, and expect to be offered less money than you were online. Some firms may use minor issues to reduce the actual amount they will pay. While you don't have to accept these offers, if you need to fund your next car, you may end up with little choice.
3. Selling privately
Unless you are able to find a friend, relative or colleague to buy your old car from you, you'll have to advertise it either online or in a local newspaper, or put it in an online auction.
The last method allows you to set a reserve price, and a bidding war can push the price of your vehicle up very quickly. The catch is that the site will take a cut of the sale price in commission for its own profits, and there's no guarantee your car will attract bidders.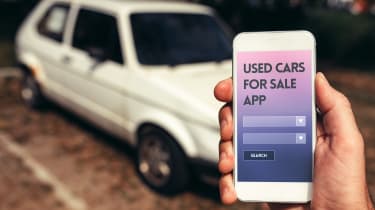 If the idea of an auction doesn't appeal to you, there are numerous online classified sites out there, although Auto Trader dominates the market.  
Partnership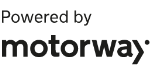 Need to sell your car?
Find your best offer from over 5,000+ dealers. It's that easy.
Many online classified sites will use your car's registration number to determine its engine size, trim level, tax liabilities, as well as performance and economy figures, although you'll still need to input its mileage yourself.
Some sites even perform a basic background check on your car, which includes its stolen/write-off/scrappage status. Make sure these are correct (they usually are) and then use the 'description' section of the advert to detail:
• Your car's condition. Be honest, without underselling it
• Service history. Can you prove that your car has been maintained regularly by a reputable garage?
• Any repairs? Again, it's a good idea to be up front, but not too critical
• Any extras not detailed in the specifications section of the advert
• Number of owners
• Willingness to negotiate on price
Getting a friend to proofread the advert before you send it to the newspaper or upload it online never hurts, and avoid using clichés such as 'first to see will buy'.
Aesthetic preparation
The first thing to do is remove any traces of your life from the car. Buyers want to think of a potential new purchase as 'theirs' and if your child seats, old petrol station receipts, and travel sweets are still littering the interior, they will struggle to see it as anything other than yours.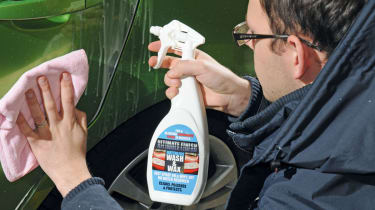 Clean your car thoroughly, inside and out. Either do this yourself or employ the help of a professional valeter. A good valeter with the right equipment will be able to polish out minor scratches and paint imperfections, too.
After your car has been valeted, you may wish to invest in a cover to protect the exterior from the elements.
Mechanical preparation
If you are to get the best price for your car, it must be in full working order. Check online to see if it has any outstanding recalls (gov.uk/check-vehicle-recall), and get these dealt with if any have slipped through the net.
Ensure all the gauges, lights and other features are in working order, and inspect the tyres and windscreen wipers for wear and damage, replacing or repainting them if needed. Check you've got the right amount of oil, coolant and brake or power-steering fluid, and fill the screenwash reservoir.
If your car will soon be due for a service or MoT, consider booking it into the garage. Make sure you've got all your service history paperwork in order.
Don't forget your pictures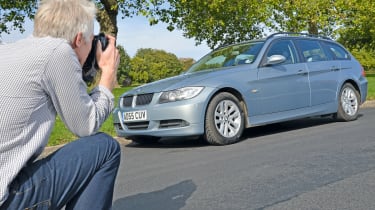 Pictures are just as important as words when selling a car; photograph your old motor like a pro and not only will your advert stand out, but buyers will also know that you care about what you're doing.
Once you've cleaned your car inside and out, get it into position. Avoid overhanging trees, overhead wires or buildings that will cause awkward shadows. Open spaces with plenty of sunlight are ideal for the exterior and let light through the windows, which is of benefit when shooting the interior.
Take pictures from three-quarter angles instead of head-on, and ensure you don't shoot into the sun; the glare will bleach out the details that you want.
A smartphone camera will do the job but, if you want to go the extra mile with your photos, use a proper digital single-lens reflex (DSLR) camera.
How much is your car worth? Find out with our free car valuation tool...