Half a million drivers seen using a mobile phone at the wheel
Data shows the number of people seen using a mobile without a hands-free device has fallen, but experts say figures may not reflect reality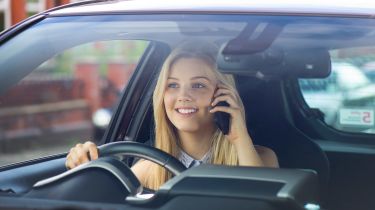 Nearly half a million motorists were observed using a mobile phone without a hands-free device in 2017, a 0.5 per cent decline over the previous three years, according to new Government figures. However, road safety experts have voiced concern that these declining figures don't reflect what law-abiding motorists "see on a daily basis".
Data released by the Department for Transport (DfT) reveals 1.1 per cent of drivers – equivalent to 445,000 people – were seen driving while using a mobile in Great Britain during the course of the year. The rate for Scotland alone was 2.0 per cent – significantly higher than the 0.6 per cent figure for England and Wales.
• Six points and £200 fine for mobile phone use while driving
Motorists aged between 17 and 29-years-old were the worst offenders, with 4.0 per cent of the demographic caught using a phone. However, the gender split was fairly minimal – 1.2 per cent of males broke the law, compared with 1.1 per cent of females.
Meanwhile, taxis and private hire cars were the worst in terms of vehicle type, as 3.3 per cent of drivers of these committing the offence. At the other end of the scale, car drivers were second-best for obeying the law, beaten only by HGV drivers.
The proportion of drivers using mobile phones was higher on urban roads than in rural locations. In addition, the infringement was more common at weekends than on weekdays and occurred most frequently during the evening.
Declining figures
The overall figure for proportion of drivers committing the offence fell over three years from 1.6 per cent in 2014 to 1.1 per cent in 2017, although the latter figure excludes Wales.
However, RAC road safety spokesperson Pete Williams said the motoring organisation's own data suggests the problem of drivers using mobile phones behind the wheel has "far from gone away."
• Drivers' mobile phone signals to be used to manage traffic
"We suspect many drivers will be very sceptical of these findings as they don't reflect what they see on a daily basis," he said.
The DfT's data also looked at seatbelt use, showing the proportion of drivers complying with the law has increased from 95.3 per cent in 2014 (excluding Wales) to 96.5 per cent in 2017.
Do you use your mobile phone while driving, or have witnessed another driver using theirs? Let us know in the comments below...