"Train travel was rubbish a decade ago and is even more rubbish today"
Mike Rutherford thinks the colossal rail industry subsidies would be better diverted into roads, cars and motorway service areas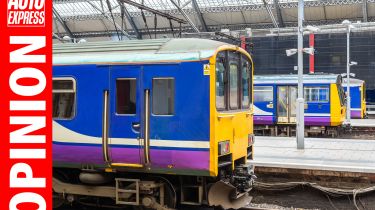 It's godawful, embarrassing and pathetic enough that the Government-funded watchdog, Transport Focus, revealed a few days ago that rail services are worse now than they were way back in 2008. Put another way, train travel was rubbish a decade ago and is even more rubbish today. Progress? What progress? Generally, there hasn't been any. If it were a football team, the horribly flawed rail industry would be Charlton Athletic.
What can loosely be described as the 'overall railway experience' hasn't improved, or even remained at the same lousy levels of 2008. It's actually gone backwards during the same decade in which fare hikes increased at a greater rate than wage rises, general inflation and the growth of disposable incomes.
• Why build HS2 for £403m per mile when a road costs £10m per mile?
In the recent past, We're Getting There was the official slogan of the train industry. We're Still Not There would be a more appropriate and accurate chant in 2019. To be fair to Transport Focus, it seems refreshingly honest about its research findings. It certainly doesn't try to hide the terrible truth that "more than 20 per cent of passengers" now fall into "not satisfied" territory.
The train – which is supposed to be the viable and affordable alternative to the car – is anything but. How can it possibly be when, for starters, our prohibitively expensive trains don't run 365/24/7, or door to door, whereas cars (even old bangers costing next to nothing) can and do?
Transport Focus also says that in some parts of Britain the following facts emerge: up to 70 per cent of passengers are dissatisfied when it comes to the crucially important value-for-money element of their tickets; as many as half of passengers aren't satisfied with reliability and punctuality; and the same goes for overcrowding, which is unsatisfactory for the majority of passengers in some regions. Parking facilities in and around railway stations, meanwhile, also dissatisfy many, while satisfying only a small minority. Why am I not surprised?
The greatest decline in satisfaction on a national level concerned the helpfulness and attitude of staff on our trains. That doesn't surprise me, either, because most of the staff I deal with don't seem to give a toss, or try hard enough, in my experience. Station employees and behind-the-scenes staffers also have their moments – something one or two of them proved on 2 January, when another round of inflation-shattering ticket price hikes were imposed, during the same hour in which countless trains (including mine) got cruelly cancelled. Honestly, I felt like a victim of state-sponsored fraud.
The sooner the colossal track, train and station subsidies are diverted into roads, cars and motorway service areas, the better. We're entering the age of the personal, 24/7, door-to-door 'train' – otherwise known as the automated car, designed for one person or, if you prefer, up to five or six colleagues, mates or family members.
Given the perilous state of our rail industry, this solution can't come fast enough.
Do you agree with Mike? Do you think the rail industry needs a shake-up? Let us know your thoughts below...