Latest diesel cars emit almost no NOx according to new research
Independent tests show Mercedes C220d emits 0mg/km of nitrogen oxide on the road, while BMW 520d emits just 1mg/km; legal limit is 168mg/km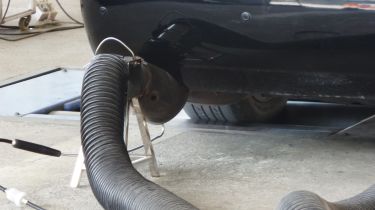 The latest diesel models from Mercedes, Vauxhall and BMW emit almost no nitrogen oxides, or NOx, even in the toughest real-world on-road tests, according to independent research. 
The German automobile club (ADAC) conducted on-road RDE (real driving emissions) tests of a number of petrol and diesel models to assess their cleanliness, and found many models dramatically undercut the 168mg/km currently allowed under Euro 6d Temp rules.
The diesel Mercedes C-Class C220d actually emitted no NOx whatsoever during the on-road tests, while the BMW 5 Series 520d emitted just 1mg per kilometre. An Opel (Vauxhall) Astra with a 1.6-litre diesel engine also impressed, emitting just 1mg/km of NOx, while the Citroen Berlingo BlueHDI 130 emitted just 7mg/km. In some cases, the diesel cars tested emitted less NOx than equivalent petrol models.
These the findings echo work showcased by Bosch in early 2018 that revealed on-road NOx levels could be cut to as little as 13mg/km. NOx emissions have been at the heart of the debate around diesel, with research linking them to everything from asthma and pulmonary conditions, to heart disease and dementia.
Mercedes told Auto Express the C-Class's result was partly due to "exhaust after-treatment close to the engine and...multiple exhaust gas recirculation" on the company's OM 654 diesel engine. Mercedes added: "Our goal for 2020 is to get to average NOx emissions of around 30 milligrams per kilometer in RDE drives of Level 2."
| | |
| --- | --- |
| Car | RDE NOx (mg/km) |
| Audi A8 50 TDI | 15 |
| BMW 520d Steptronic  | 5 |
| BMW 520d Touring  | 1 |
| BMW X2 xDrive 20d  | 23 |
| Citroen Berlingo BlueHDI 130  | 7 |
| Honda Civic 1.6 i-DTEC  | 101 |
|  Kia Ceed 1.6 CRDi | 22 |
|  Mercedes A 180 d | 40 |
|  Mercedes C 220 d | 0 |
|  Opel Astra 1.6 D | 1 |
|  Peugeot 308 SW BlueHDi 180 | 30 |
|  Volvo XC60 D5 AWD | 56 |
|  VW Golf 1.6 TDI SCR | 14 |
Source: ADAC
The findings from the ADAC, who are the equivalent of the British AA, will be welcomed by vehicle manufacturers, who have reportedly been facing battles to get their cars to comply with the on-road RDE element of the WLTP (worldwide harmonized light vehicles test procedure) tests. The results also come against a backdrop of legal wrangling related to the legality of RDE limits.
On road RDE NOx limits are set at 80mg/km (milligrams per kilometre) for diesel cars, and 60mg/km for petrols. In order to allow manufacturers time to get their vehicles compliant with the tests, and allow for inaccuracies in the PEMS (portable emissions measurement systems) used during the on-road RDE tests, 'conformity factors' – which allow cars to emit more than those limits – were set.
The current conformity factor is 2.1, meaning a car can emit 2.1 times more NOx during RDE tests than is permitted. From January 2020 the conformity factor drops to 1.5, effectively allowing diesels to emit 120mg/km of NOx during RDE trials.
At the end of 2018, however, the European Court of Justice ruled the European Commission had no right to introduce those conformity factors, meaning a strict limit of 80mg/km of NOx should be in effect. Reports indicate the European Commission intends to appeal the ruling, but the 80mg limits will be enforced within 14 months if that appeal is unsuccessful.
Are you surprised by these findings? Let us know in the comments below...