Wales planning to introduce default 20mph speed limit
First Minister Mark Drakeford has said the Welsh Government wants 20mph to become the "default" speed limit for residential areas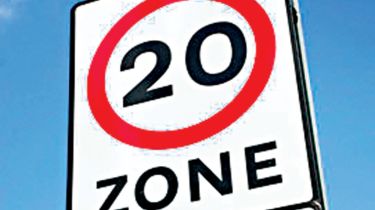 The Welsh Government wants to see 20mph become the "default" speed limit for residential areas, the country's First Minister has announced.
Speaking at Welsh First Minister's Questions, Mark Drakeford said the Welsh Government is working with the WLGA (Welsh Local Government Association) to "identify the practical actions needed to implement 20mph speed limits in residential areas across Wales."
• Official: almost all drivers break 20mph limits
Drakeford highlighted the fact that the Welsh Government has already invested hundreds of millions of pounds in smaller 20mph zones and cited the city of Cardiff – where trials of 20mph limits have been taking place for a number of years – as "a good example of what can be done."
The First Minister did say that councils must have the power to choose to retain 30mph zones on "key arterial routes", but argued that the implementation of 20mph limits on all other residential roads would result in a reduction in the speed of traffic and, in turn, a lower accident rate.
In spite of Drakeford's claims, a study conducted by the Department of Transport (DfT) in November 2018 revealed that, on average, 86 per cent of drivers break 20mph speed limits.
• 20mph zones can see roads become more dangerous
The DfT analysed nine 20mph zones in London and found average speeds only reduced by 1.3mph. Another study by Bath and North East Somerset Council produced an identical figure, with researchers commenting that the results offered: "little in the way of persuasive argument for continuing the [20mph] programme into the future."
As for safety, Bath and North East Somerset Council's study also found that, out of the 13 20mph zones it analysed, the rate of people killed or seriously injured actually increased in seven of them.
Do you think 20mph zones are a good idea? Let us know your thoughts in comments section below...