'We need a British motor show to inspire the next generation'
A British motor show is needed to help educate and inspire the future generations interested in the car industry, says Mike Rutherford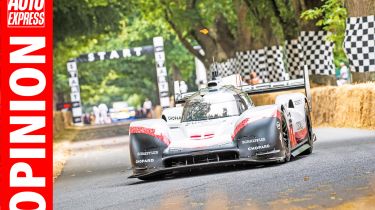 The car event season is upon us again in balmy Britain. And that has to be a good thing, doesn't it?
Search hard enough and you can still enjoy and exploit freebie permanent or temporary exhibitions – often in or near holiday destinations (for example, the Whitstable Classic Motor Show in Kent on 14 July). 
• Best car museums and events this summer
Alternatively, spend £20 to attend the improved London Motor & Tech Show (16-19 May); from £39 for the unquestionably upmarket Goodwood Festival of Speed (4-7 July); £144 and up for humble CarFest North (26-28 July); and another £144-plus for the equally modest CarFest South (23-25 August). 
But with due respect to the organisers of the above and other leading events in the UK, isn't it time that they – with help from us, the paying public – cranked it up several notches by reviving a proper, national motor show with a potential audience of 50 million? That's circa 40 million drivers plus their important, often-forgotten 10 million or more passengers.
Whether colossal and national in the future or smaller and more local as they are today, motor shows must include more for kids. They need to know about everything from road safety to existing and imminent green tech. If they're cyclists they require formal training. As would-be motorcyclists or drivers, it's essential they get more education and info – on first aid, roadcraft, the possible introduction of driverless tech, you name it.
Yet these informal and formal learning processes needn't and shouldn't end there. What better further education and career paths for youngsters in the 2020s than in 'green transport' (for want of a better description) and related industries?
Of course, it's up to schools, colleges, universities and parents to help students achieve the relevant qualifications so they can enter the fast-changing vehicle design, manufacturing, sales and repair workplace, or the almost-as-exciting, new-look energy sector.
But maybe motor shows with a wider remit have a major role to play here, too. Such events will always be about road cars, motoring and motorsport. But from now on they must also focus heavily on state-of-the-art technology, education and jobs. This is how we can make such shows more mainstream – for mums, dads and their keen-to-learn kids. 
I'm assured by the Green Party and others that we'll enjoy a massive jobs boom when electric vehicles sell in large numbers. This is thanks to the design, build and maintenance of huge projects such as 'clean' power stations, solar and wind farms, wave-harnessing energy systems, and carbon capture infrastructure. They're all extremely labour intensive. This and more is what consumer exhibitions should be shouting about.
I for one look forward to the imminent arrival of The British Motor, Motoring, Motorsport, Tech, Energy, Education and Job-Finding Show – funded by business and the Government, plus adult and child showgoers who'll surely queue up to attend. Why not? What's not to like? What could possibly go wrong?
If you enjoyed reading this then click here to read some of Mike's previous columns...