Keyless car crime: what are brands doing to stop it?
We discover the tech manufacturers are using in the fight to protect your models from the crooks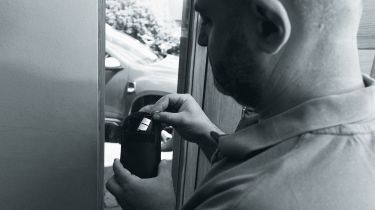 Car theft is on the rise again, with 112,000 vehicles reported stolen last year, up nine per cent on 2017's figure.
Insurance firms see keyless theft, where crooks use cheap electronic kit to clone a key's frequency, as fundamental to the recent increase. From 2021, the New Vehicle Security Assessment will place cars with vulnerable keyless systems in higher insurance groups, leading to potentially more expensive premiums for owners.
Nobody can blame car manufacturers for criminal activity, but fixes for keyless vulnerabilities are available. We asked all the major players what steps they are taking to safeguard their models past, present and future.
Fixes: What are car makers doing?
BMW and MINI
Fix? Sleeping keys
All new BMW and MINI keyless systems come with sleeping keys. Current BMW keys can be retrofitted with motion sensors; these aren't available for previous-generation cars.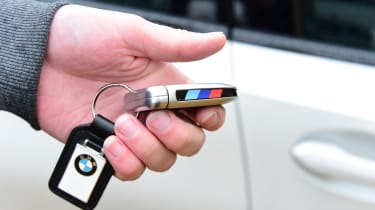 FCA Alfa Romeo, Fiat, Jeep
Fix? Deactivate (some models)
FCA cars have industry-standard anti-theft devices. The firm did not refer to Faraday pouches or UWB tech when responding. Some keyless systems can be deactivated. 
Ford
Fix? Sleeping keys, Faraday pouches
Sleeping keys for the current Fiesta and Focus were introduced in April. These can be retrofitted for £65-£72. Ford also offers Faraday pouches and blockers to prevent unauthorised communication through a car's onboard diagnostics port. 
Group PSA Peugeot, Citroen, DS & Vauxhall
Fix? Deactivate
Groupe PSA does not offer UWB or Faraday pouches, but said it's "currently developing security solutions". Keyless systems on the "latest" PSA cars can be deactivated.
Honda
Fix? Unknown
Honda declined to answer our questions for security reasons, although the brand said it would "continuously work to improve" its cars' electronic control systems.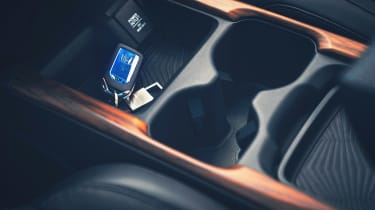 Hyundai
Fix? Unknown
Hyundai wouldn't reveal if it had taken action for potential keyless vulnerabilities, but said it will "continue to develop and update effective counter-measures".
Jaguar Land Rover
Fix? Ultra-wideband
JLR's keyless tech has been judged secure in independent tests by Which? and the ADAC (German automobile club). Auto Express understands the firm uses ultra-wideband technology. JLR says 90 per cent of cars fitted with its InControl Secure tracker system are recovered after being stolen. 
Kia
Fix? Faraday pouch
New Kias with keyless systems are now supplied with a free 'KiaSafe' Faraday pouch; existing owners can purchase one for £9.99. Kia will apply further protection to new models "as soon as is feasible".
Maserati
Fix? Unknown
Maserati did not refer to Faraday pouches or UWB tech when responding. The firm said its anti-theft systems are "in line with security standards", while UK Maseratis come with a 12-month subscription to the Vodafone Navtrak tracker system.
Mazda
Fix? Deactivate
The new Mazda 3's key can be switched off. This feature is expected to be available on new Mazdas "going forward". Dealers can disable keyless systems on other Mazdas free of charge. Retrofit fixes could be "available in the future", the brand said.
Mercedes
Fix? Sleeping keys/deactivate
Keyless fobs for Mercedes made since summer 2018 feature motion sensors. Keyless-Go systems on all Mercedes can be switched off by pressing the lock button twice; the key's LED will flash three times (two short flashes and one long) to confirm.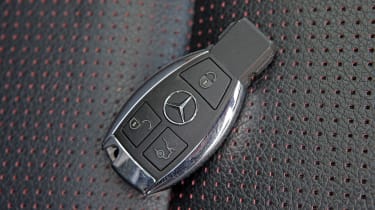 Mitsubishi
Fix? Deactivate
Partnership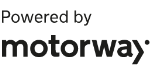 Need to sell your car?
Find your best offer from over 5,000+ dealers. It's that easy.
Both keyless entry and go functions can be deactivated individually or together, "making [cars] impossible to steal using a relay device". Mitsubishi uses "rolling key codes" that send a different signal each time. The firm has been "feeding back to our engineers in Japan" about keyless concerns.
Nissan
Fix? Deactivate
Nissan said security reasons prevent it from revealing if a fix exists for potential vulnerabilities. Keyless functions can be switched off in instrument panel settings "on the vast majority" of current Nissans.
Renault, Dacia and Alpine
Fix? Deactivate
Groupe Renault doesn't have retrofit patches, but keyless functions can be deactivated by owners. The company is investigating sleeping keys and UWB technology for future models.
Subaru
Fix? PIN code, deactivate key and/or sensor
Key signals can be switched off with the press of two buttons on the fob. Owners can opt to enter a PIN code each time before starting their Subarus. Internal keyless receivers can be switched off, requiring keys to be in contact with the starter button.
Suzuki
Fix? Deactivate
Dealers can partially disable keyless systems; this will be indicated in relevant models' handbooks. Suzuki is working towards the New Vehicle Security Assessment for 2021, the brand said.
Toyota and Lexus
Fix? Deactivate
Toyota wouldn't comment on future plans and doesn't have retrofit patches for potential vulnerabilities, but the keyless functions of all Toyota and Lexus models can be deactivated "either by the dealer(or the customer on most models)".
VW Group (Audi, Skoda, SEAT, Volkswagen etc)
Fix? Deactivate
Keyless functions of VW Group cars can be switched off through infotainment screens or by dealers. Auto Express understands that VW will introduce retrofit patches soon.
Volvo
Fix? Deactivate/sleeping keys
Volvo will introduce sleeping keys "later this year" for new cars but has "no plans" for retrofit patches. Dealers can disable a model's keyless entry function, leaving the keyless drive element still working.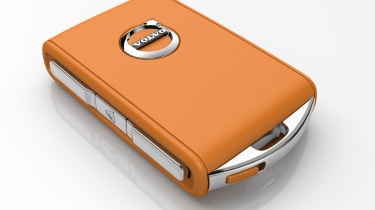 What fixes are there?
Sleeping keys: When the key is not moving, a motion sensor switches off its wireless signal, preventing thieves from cloning the frequency.Ultra-wideband (UWB) technology: Transmits many signals simultaneously over a number of frequencies. It's hard or impossible to clone, but expensive. Faraday pouches: Wire-mesh-lined bags that block the signals of keys placed inside them. Cheap and easily available. Keeping keys away from exterior walls, doors and windows is also advised.Deactivating keyless systems: This can often be done by a dealer or the owner through the car's key or infotainment screen. It's inconvenient but is an effective solution to keyless car theft.
Industry view
Society of Motor Manufacturers and Traders chief executive Mike Hawes says there is "no 'one-size-fits-all' solution" for keyless vulnerabilities, but feels that sleeping keys and similar tech are part of the picture. He called on the Government to ban "the open sale" of relay theft kit that has "no legal purpose".
Do you think manufacturers should be taking more steps to try and reduce keyless car theft? Let us know in the comments below...