Electric car chargepoints to accept contactless payment next year
Government "prepared to intervene" to force contactless payments on public chargers; Chargemaster announces contactless payment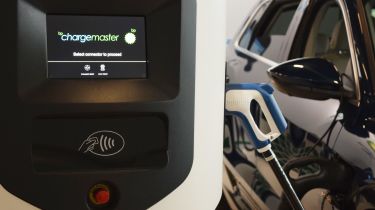 All newly installed rapid or higher-powered electric car charging points should be fitted with contactless bank card readers from Spring 2020, the Government has said.
As part of its Road to Zero scheme, the Department for Transport (DfT) has signalled that it expects charging firms to offer a "roaming solution" across the network, allowing EV drivers to use various different charger networks with a single payment method, rather than having to have multiple cards and smartphone apps.
• BP Chargemaster unveils new 150kW ultra-fast charger
The DfT added that it is "prepared to intervene to ensure a good deal for consumers by using powers in the Automated and Electric Vehicles Act".
The Government department has supported the installation of more than 20,000 public charging points in the UK, of which more than 2,000 are rapid chargers, and has also said it's working with the industry to make charging point data available more freely in order to help drivers easily locate and access them.
The news comes as the UK's largest public EV charging network announced it will now allow customers to pay using contactless bank cards.
BP Chargemaster's Polar network – made up of 7,000 charging points, of which 450 are rapid chargers – will offer contactless payment on all new 50kW rapid chargers and 150kW ultra-fast chargers. In addition, card readers will be retrofitted to existing 50kW units.
• All ministerial cars to be electric by 2030
The firm says it is now the first charging network to offer contactless payment, with all existing Ultracharge units to be retrofitted with card readers within the next 12 months.
BP Chargemaster hopes the move will make it easier for "occasional users" to access the network, although it intends to continue supporting and developing its Polar Plus subscription service at the same time.
Transport minister Michael Ellis commented: "It is crucial there are easy payment methods available to improve electric vehicle drivers' experiences and give drivers choice."
Are you glad that electric car chargers will now accept contactless payments? Let us know in the comments below...