"Lotus Evija marks a turning point for the brand under Geely"
What does the Evija mean for Lotus? John McIlroy thinks it's important but mainly as a sign of things to come...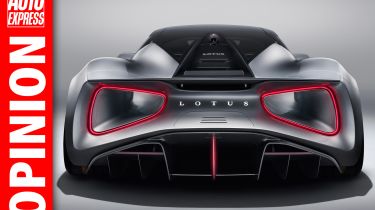 There have been plenty of times over the past two decades when it's been hard not to feel sorry for Lotus enthusiasts. Starved of cash, but still a hotbed of engineering talent, the Norfolk firm has struggled on with the same, badly ageing basic models, delivering pure driving thrills.
Many of you will remember Lotus's most recent false dawn: the fabled Paris Motor Show of 2010, when hordes of celebs unveiled six future concepts from the company. Not one of them ever made production.
• Lotus Evija: read the full story
This week's first all-new Lotus for 11 years might not be exactly the sort of model to get hordes of brand purists excited, either – for the Evija is not an affordable, Porsche-rivalling roadster but rather a 1,972bhp pure-electric hypercar which costs £250,000 just to reserve. You'll need £2million to buy one.
And yet there's one word behind the Evija that makes us optimistic (at last) that it could really mark a new dawn for Lotus: Geely. The Chinese industrial giant has been stretching its global influence extensively over the past few years, and it has a pretty good record of investing in the right areas and delivering a return.
Witness, for example, its patient approach to Volvo, where it backed the cash for designs and platform technology – work that is now reaping huge rewards as the Swedish brand delivers record sales. Equally, the new electrified taxis gliding around London (and other major cities) are testament to how Geely can spot engineering synergies and use them to wider benefit.
Everything Geely has done so far at Lotus – and in a relatively short space of time – makes sense to us. So while the die-hards may have to wait a little while yet for this classic British brand to really emerge from the doldrums, we feel more hopeful than ever that it is really going to happen. Evija is just a calling card, no more than that.
How do you think the future for Lotus looks? Let us know in the comments...