'Formula E is the future of motorsport, not Formula 1'
After watching the Formula E finale, Steve Fowler says that Formula 1 has a lot to learn from the all-electric racing series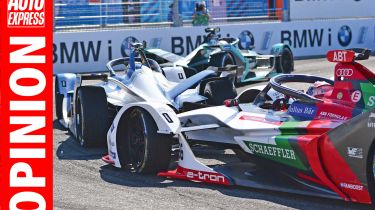 I've been a critic of Formula One for some time now. Like so many, I've been an avid fan for years, but now I find myself watching the start, taking the dog for a walk, getting back for the finish and finding that I haven't missed much. To be fair, we've had the odd more interesting race lately – or at least a few battles and overtakes – but that's not enough.
So when I was offered the chance to attend the season finale of the all-electric Formula E series, I thought I'd go to see what it had to offer.
• The French Grand Prix could mark the beginning of the end for Formula 1
Formula E has come in for lots of criticism from car fans, who have complained about the lack of real racing and noise. But I'm now firmly a Formula E fan.
The whole operation is impressive. Just five seasons in, only the drive systems and software are supplied by the teams, while the cars and logistics are all taken care of by Formula E; everything for the track is carried from city to city. The result is reduced costs (around £25million a year needed to run a team, in contrast to a rumoured more than ten times that in F1), events in big-population areas and, most importantly, closer racing. No wonder the big car brands are rushing to sign up.
The bottom line is that when you put a load of blokes (what a shame there are no female drivers competing in Formula One or Formula E) in cars, they'll race. And that's exactly what I saw – plenty of action that in many ways reminded me of BTCC in its heyday. Thankfully the cars are robust enough to let the drivers 'lean' on each other to make a pass; it was huge fun to watch and even the electrified noise the cars make sounded good.
I was also hugely impressed by the spirit of the whole thing: families enjoying the event together, drivers and fans racing each other on simulators, autograph sessions and even fans at home competing with their idols online. Formula One is changing under its new management. But I hope it watches and learns from Formula E.
If you enjoyed reading this then click here to read our other opinion columns from the Auto Express team...