'We have to point the finger at Highways England for making a mess of the M2'
The decision makers at Highways England need to be held accountable for the mess they made with the M2 closure, says Mike Rutherford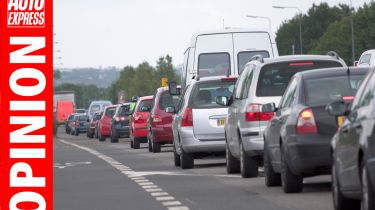 Cast your mind back to the gloriously balmy weekend of 13-14 July. Thanks to the cricket World Cup Final, climax of the Wimbledon tennis tournament, British Grand Prix, plus colossal Hyde Park and Blackheath open-air concerts, the south-east was the centre of the world for sport and music. 
Around 19 million people live in the region, almost twice as many as the combined populations of Scotland, Northern Ireland and Wales. But extra millions – from overseas and all over Britain – also hit the region over that 48-hour period. The already hopelessly stretched local-road network needed to be fully fit for purpose on this mid-summer weekend.
• Government invests £348m in local road improvements
So guess what Highways England did for millions of drivers and their passengers? It chose to shut a 12-mile section plus junctions (plural) of the crucially important and always-busy M2 – for two days.  
I've travelled this motorway more than any other, first as a child in the sixties and seventies, then as a driver from the early eighties until now. So you could say I know it particularly well. 
The result of that 13-14 July closure? M2-related chaos, delays, fuel wastage and increased emissions of the magnitude I've never witnessed before. I'm clear in my mind that this weekend was the worst for (locked-out) M2 users for half a century. Signage was abysmal or non-existent. The diversions for cars and HGVs (this is Channel-port territory) comprised single-lane roads through tight villages and towns that couldn't cope. Temporary roadworks and walking-pace (or worse) speeds on these so-called diversion routes added insult to injury. For all this M2 madness, we can (and must) point the finger at the Highways England decision-makers for getting things so horribly wrong. 
For heaven's sake, the hard-to-spot workers quietly closing junctions and taking out dozens of miles of driving lanes and hard shoulders were merely cleaning motorway signs, collecting litter, cutting the grass, cleaning gullies and drains, and patching up comparatively tiny, worn-out bits of the long, long stretch of M2 they shut down. 
"We are sorry," Highways England confessed to me in an unprecedented – but necessary and welcome – formal apology to the hundreds of thousands, possibly millions, of drivers and passengers banned from using a big chunk of the motorway on the offending days. Furthermore, following pressure from Auto Express, the organisation has vowed to "review our approach" when deciding if and when to shut down the M2 (and other motorways, hopefully) in the future. "We've agreed important changes... to help keep disruption to an absolute minimum."
The verdict? Highways England messed up big-time on the M2. But it has the guts to apologise, and it promises it won't make the same mistakes again. 
Do you agree with Mike's thoughts about Highways England? Let us know in the comments below...