New tech allows electricity to be generated from tyres
New technology could allow tyres to be used to generate electricity to power tyre pressure monitoring systems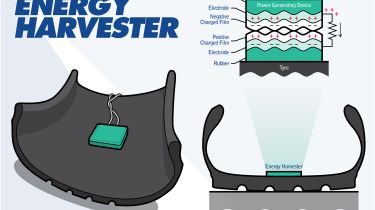 A new technology is being developed which could see tyres generate electricity to be used to power tyre pressure monitoring systems.
Sumitomo Rubber Industries – the parent company of Falken – is working with Professor Hiroshi Tani from Kansai University in the city of Suita, Osaka to develop the Energy Harvester, a system that takes advantage of the build-up of static electricity inside the tyre to efficiently produce power as the car's wheels turn.
• Best mini air compressors for car tyres 2019
The Energy Harvester consists of two layers of rubber, each covered in an electrode, along with a negatively charged film that interfaces with a positively charged film. When fixed to the inside of a tyre, the system generates electricity as the tyre deforms during rotation.
The engineers behind the Energy Harvester think it could be used to power a tyre pressure monitoring system or another automotive device without the need for batteries.
Initially created as part of Sumitomo's research and development programme, aimed at creating technologies that improve safety and environmental performance, the device has now earned the support of the Japan Science and Technology Agency.
Sumitomo Rubber Industries is a Japanese company that owns well-known tyre brand Falken. It's the fifth-largest tyre manufacturer in the world and employs 37,852 people worldwide.
Do you like the sound of this new technology? Let us know in the comments below...