Ex-Motability cars – should you buy one?
Ex-Motability cars are commonplace on the UK used car market but what are the pros and cons when it comes to buying one?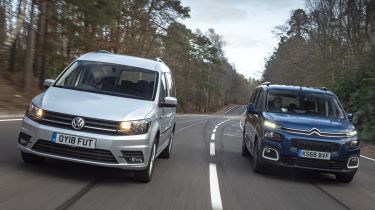 As Europe's largest car fleet operator, Motability accounts for one in ten of all new cars bought in Britain. That means it's also a major supplier of used cars as a result – each year Motability sells around 200,000 of its ex-fleet vehicles.
If you're looking for a used car that's around three years old, you're likely to come across an ex-Motability vehicle. But is there anything you should be worried about when it comes to buying a car which has come from the scheme? What do you need to know and look for when buying an ex-Motability car? 
What is the Motability scheme?
Motability was set up to help disabled people, their families and carers become more mobile and independent and has provided over 4.5 million vehicles to those eligible since its inception in 1977.
The scheme works by making it possible for disabled people to lease a brand-new vehicle at a discounted rate. They can use all or some of their disability benefits (Personal Independence Payment) to fund the lease, or put some of their own money towards it to afford a more expensive model.
A cap on the list price of eligible cars, and a limit on the distance carers can live away from the person they look after, were introduced to crack down on misuse of the Motability scheme in recent times. It's such a significant part of the new car market that car makers work closely with the scheme to negotiate deals to make models more attractive.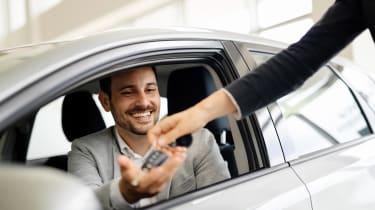 As an incentive to shift slower-selling models, manufacturers will often offer them for small or even zero up-front fees (known as advanced payments.) Cheaper models can allow the user to keep some of their weekly PIP benefits as the monthly lease cost is less than the payment they receive.
Motability cars explained
Most cars from Motability (around three-quarters) are returned as planned after three years. The payments include insurance and servicing costs, so the car should have been well-maintained and repaired if necessary. However, the charity will only pay for two services on a typical 36-month lease, so check the third service has been done by the dealer you're buying from or budget to do it yourself if you buy from another source such as an auction.
While it won't pay for a final service unless the car goes over three years old, Motability will have made sure the car was given an MoT at around 34 months by the dealer who will be supplying the new car to the customer. A detailed report is sent to Motability so they can get an idea of what sort of condition the car is in ahead of its return. You won't be able to see that report, but the government MoT check website will let you see if the test threw up any fails or advisories.
From Motability scheme to used car market
Once the car is at the end of its lease, that dealer gets the first option to buy it. This saves on transport costs, as the customer will have driven it to the dealer to collect their new model. The dealer will generally snap it up if the car is 'prime' stock, with low miles and in good condition, which can be sold easily on the forecourt.
Partnership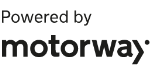 Need to sell your car?
Find your best offer from over 5,000+ dealers. It's that easy.
If this dealer isn't interested, the car will be collected by Motability and, if necessary, refurbishment work is done to repair scratches and dents. Once these are completed, the car's details are put onto a special online 'portal' which is only open to dealers who have an account with Motability.
This website allows the dealers to see the specification, mileage, history and cost of every vehicle being offered. The prices will change according to the market conditions, but all the cars are inspected to a certain standard so the trader can be confident that they can buy it without having actually physically seen it themselves. If they choose to purchase, the cost is charged to their account and the car will be delivered to their forecourt. 
Some large dealer groups will promise Motability that they will buy a certain number of cars a year in exchange for a bonus, so tend to buy at this stage and are likely to have a large number of the charity's old cars on sale at keen prices.
If the car doesn't attract a buyer on the online portal, perhaps because of oversupply, excessive mileage, a strange specification, poor condition or a patchy service record, Motability will then feed it into a mainstream public car auction which is open to any buyer. Most of the big auction houses (such as BCA) will hold special Motability sales every week. 
In theory, anyone can bid on a car there - but be careful and make sure you know what you are doing before you raise your hand. Also bear in mind that there will be the auction's buyer's fees to pay on top of the hammer price. These are substantially higher for private customers than trade account holders.
Most of these auctioned ex-Motability cars will end up at independent dealers who are prepared to do a little more refurbishment or accept these 'non-prime' vehicles. These will include car supermarkets and other traders outside of the franchised dealer networks. There's no need to be scared of these cars, as long as you are willing to accept the reason they were not considered good enough by the franchised dealers in the first place. While that could be obvious, such as a shabby interior or missed service, it could also be just a case of oversupply with too many similar cars already in the market.
While the cars at the auction will be clearly labelled as ex-Motability, dealers won't always publicise where their cars came from. Now data protection rules have dictated that the previous owner's details are no longer shown on registration documents, you may never know you're buying an ex-Motability car unless you actually ask the salesperson to tell you.
Ex-Motability cars:  what should you look for?
Mileage and condition
Although the Motability scheme allows drivers to cover up to 20,000 miles a year, many don't do anywhere near this - in fact, many cars will be very low mileage. But this can be a double-edged sword, meaning that the vehicle has been sat unused for long periods of time, or that it's only been used for very short journeys. This can damage components or cause them to wear out faster.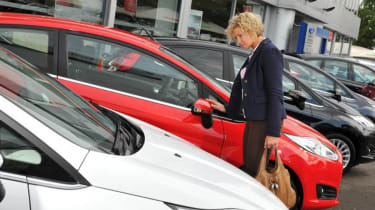 You also need to think about how the car might've been used by its Motability custodian. With 650,000 users, you get a great cross section of society, including people who will cherish their cars. In fact, there is an incentive for Motability drivers to look after their cars, as there is a £250 bonus on offer at the end of the lease if it passes its inspection.
But other drivers will abuse them. Bear in mind that you are also allowed to smoke in a Motability vehicle because it's classified as a car for private use; this will detract from the value as it damages the interior and makes it difficult to sell on to non-smokers.
Modified Motability cars
While the vast majority of cars are kept completely standard, around 5% are adapted to make them suitable for the driver's disability. This can vary from a simple steering wheel knob to a full adaptation to accept a wheelchair, complete with access ramps.
• 30 blue badge holders per disabled parking space with numbers set to grow
Cars with major structural changes such as ramps tend to be kept on lease for longer – usually five years – as the conversion expense is so great. This equipment will be left in place for the next owners, but other small adaptations will be removed before sale. Check carefully to make sure they've not left holes or damage to the interior. Other bulky equipment such as wheelchairs or breathing aids can also leave damage to the boot, so factor this into any negotiations.
General checks
Some cars also have service histories, spare keys or sat nav SD cards which will have been lost in the system somewhere. Spare wheels and other tools can also go missing. Generally, the dealership where the car was serviced will be able to check from its records and will send you a replacement service book with the right date stamps in it – for a fee. Spare keys and SD cards (or discs) can cost many hundreds of pounds and need to be programmed by a dealer, so factor this into any deal.
So if you find an ex-Motability car that ticks all the boxes and seems to have been looked after, there's no reason to be scared of it. Unlike daily rental cars, they will have been driven by one family from new and will generally be looked after and serviced well. As with any used car, you will need to check it over and make sure it is right for you and the right price.
Have you ever bought an ex-Motability car? Let us know how it went in the comments...