Used car checklist: what to look for when buying a second-hand car
Read our used vehicle checklist to help you make a safer, more informed choice when buying any used car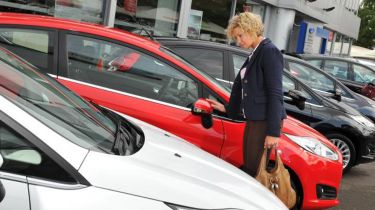 The checklist of things you ought to be aware of when buying a used car is not quite the terror inducing catalogue it once was in days gone by. Improved reliability, better manufacturing practises and, of course, huge improvements in records for insurance write-offs, outstanding finance and MoT history mean you can get a good idea of a used car's past more easily than ever before.
Naturally, there are still risks, and that applies whether you are buying from an independent trader or dealership, privately or from an approved main dealer. Nonetheless, combining our used car checklist with a bit of common sense and diligence means you can buy with confidence.
Before we get into the specifics, the two main rules to keep in mind when buying a used car are: buy with your head and not with your heart, and secondly, if you aren't convinced about anything, be prepared to walk away.
Unless you're in the market for a super rare classic or exclusive hypercar, there will be another set of wheels as good, if not better, just round the corner. How can we say that? Because we've been there and also, with more than 8 million used cars sold every year in the UK, the odds are stacked in the buyer's favour.
Once your head is in the right place for used car shopping, it's time to get down to the nitty gritty. The used car buying tips set out in our guide below will help to guarantee that unmissable used car deal is a genuine bargain.
Used car checklist summary
You'll find more detail on each of the key areas below, but here's our used car checklist at a glance…
Engine. Check for leaks, oil level, head gasket condition and exhaust smoke.
Gearbox and clutch. Feel and listen to the smoothness of the gear change, and test the clutch biting point.
Bodywork. Check the outside and underneath – a torch is useful for the latter.
Wheels and tyres. Tread depth, rubber condition and makes of each tyre.
Interior. Check the boot, dash (for mileage and warning lights) and electronics thoroughly.
Test drive. Don't hold back here, drive it until you have checked everything you want to.
Documents. V5c, service history and MoT (although this is now available online).
Used car checklist
Only some of the points below are show-stoppers for your purchase. You can use the problem to your advantage by haggling money off the car, or insist that the seller fixes it before the sale.
If you're buying privately, you'll be responsible for spotting all of these potential problems. While the seller doesn't have to volunteer much information, it's down to you to ask the right questions. Buying from a dealer gives you certain legal rights, and the car must be fit for the purpose it's intended for.
Buying from a main dealer's used approved scheme is the safest and simplest approach. Used approved schemes mean the cars will have a full service history, undergo a comprehensive mechanical check, and depending on the scheme may even come with an extra warranty and breakdown cover.
Partnership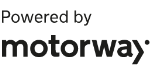 Need to sell your car?
Find your best offer from over 5,000+ dealers. It's that easy.
Read on for our used car buying checklist...
Checking the engine
The engine is the heart of the car, and while they put up with a huge amount of wear and tear, the number of components inside and the tight tolerances they operate under means maintenance is essential.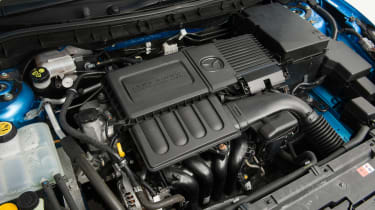 Leaks
One of the easiest things to spot are leaks. There are many different fluids that run in, around and under the engine, and a well-maintained car shouldn't spring a leak.
When you view a used car, check underneath for signs of an oil leak. If there's oil on the tarmac under the car, or lots of sludge under the car it has, or has had, an oil leak. The sludge under the engine is caused by road dirt sticking to the oily underside of the engine. 
Open the bonnet and check all around the engine for other leaks. Oil leaks are usually brown or, if the engine oil is old, black, but there are other fluids that are prone to seeping out. Coolant (also known as antifreeze) is usually green, pink or yellow while gearbox and power steering fluid is reddish brown. Gearbox fluid is quite thick, while power steering fluid is thinner.
If you see any of this leaking, you have a few options. You can ask for money off the price in order to get it fixed yourself, or you can insist the seller fixes it as part of the deal. Or you can walk away and seek out another car. Either way, it's worth getting it seen by an expert so you know the exact problem, and what it'll cost to fix. 
Oil
Checking the oil is general car maintenance and shouldn't be forgotten during the buying process. Ensure the dipstick reading is at the correct level and the oil is not discoloured or the wrong consistency. While you're there, also look for general dirt and grime covering any connectors, as this could highlight a poorly maintained or serviced vehicle.
Head gasket
The head gasket is a thin part that sits between the lower and upper parts of the engine (also referred to as the engine block and the cylinder head), and prevents coolant or engine oil from entering the engine's cylinders.
A blown head gasket is one which has begun to leak. This can cause a variety of problems from a smoky exhaust, loss of power or a rough sounding engine through to total engine failure, so it's important to check.
Check the engine is cool and remove the oil cap from the top of the engine. If you see white, or light brown sludge with the consistency of mayonnaise, you're probably looking at the result of a blown head gasket. At that point, it's probably worth walking away from the deal, as it's hard to know what other damage the problem has caused.
Exhaust smoke colours 
Switch on the engine and walk to the back of the car. A little puff of smoke when starting an engine is usually nothing serious, but watch the exhaust for a few minutes as it's a telltale sign of a problem if it remains.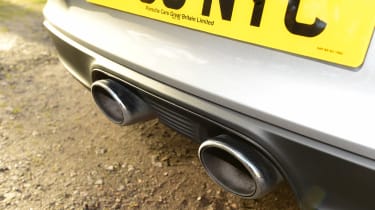 Blue smoke means the engine is burning oil. That means somehow oil is getting into the cylinders. It could indicate a blown head gasket or problems with the internal engine seals. Either way, the bills could be significant.
White smoke can be harder to spot as it's easily confused with steam - a common expulsion when the car is first started, particularly on cold mornings. Excessive white smoke can also point to a head gasket failure, but this time it'll be coolant entering the cylinders and being burned with fuel.
Black smoke is usually caused by the engine burning too much fuel. It's usually easier to rectify than curing the causes of white or blue smoke, but can be down to a number of components so can be harder to pin down the cause. 
If you're still keen to buy a car that's emitting smoke of any colour, you should always get it checked out by an expert.
Checking the gearbox and clutch
Gearbox and clutch checks are less about what you can see and more about what you can feel. 
Manual and automatic gearboxes are available, but there are different types of automatic gearboxes which can behave differently. Whatever gearbox the car has, it should engage all gears smoothly and quietly. If it doesn't there's a problem.
In a manual car the clutch biting point - the point that you feel the car start to move when releasing the clutch pedal - should be around the middle of pedal's travel. If you have to push your foot all the way to the floor, the clutch will need attention. It could be as simple as an adjustment, or a pricy replacement.
You should be able to change gears easily. Resistance or grinding noises also points to a problem.
Whichever type of automatic gearbox you're testing, make sure you engage all of the gears, make sure the 'kickdown' works - the function that changes down gears when you press the accelerator pedal to the floor. If the car has a manual mode, operated either by steering wheel-mounted gearshift paddles or a manual operation on the gearstick, try it out to ensure it works correctly.
It's worth remembering that CVT gearboxes don't actually change gear, although in some cars there's a 'gear shift' function that mimics the action of changing gear.
Used car bodywork checks
Checking the bodywork is one of the easiest visual inspections you can do while looking at a car. Essentially, you're searching for any signs of repainting or replacement panels that might suggest the model has been in an accident. Car park dents and dings can be common on doors, too, while a chipped front could suggest a lot of heavy motorway miles. Check for panel gaps, and the door seals for potential leaks, as well.
You should check as much of the car as you can, outside, underneath and, where possible, inside. Old repairs aren't necessarily a bad thing as long as they've been completed properly. They can even help to build a picture of the car's past.
Check for rust on all metal body panels. Rust will begin by bubbling under the paint, but left unchecked, it can force the paint off and can eventually rust through, so it's worth getting it fixed. Untreated stone chips and scratches can trigger rust.
Pay special attention to the car's wheelarches, especially the edges of the lips inside the wheelarches, as water, salt, road grime and grit can all conspire to cause rust. And also check the car's sills - the panels that run under the doors on both sides.
You should also look for evidence of crash damage, and more importantly, evidence of poor repairs. In bright daylight, check the body panels are of a uniform colour and look for evidence of 'overspray' on glass, rubber seals and plastic trims.
Take a look at the gaps between each panel. The thickness of the gap should be uniform all around the car. If not, the chances are that it's had a replacement panel, or in some cases, had a shunt big enough to knock the entire chassis out of alignment.
Pay special attention to the front and rear of the car, as this is where low-speed shunts often occur. Lift up the boot carpet. The panels below should be straight and ripple-free. Bent panels under the bonnet can indicate a previous front-end crash.
Checking the wheels and tyres
This further external check is important to ensure any used buy already has a decent set of tyres. If it doesn't, negotiate money off the price, because new rubber can be costly. 
Check all four wheels, plus the spare wheel if it has one. Look for signs of damage to each wheel. Grazes from kerbstones are common, and aren't usually a serious problem, but wheels that are bent or have large dents in the rims will need repairing or replacing.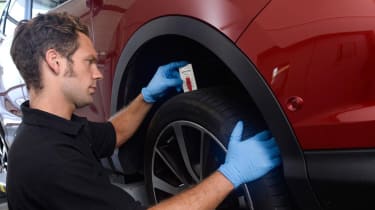 Check all of the tyres too. They should be free from cuts, splits, gouges or bulges; if you see any, they'll need replacing. The tread should be at least 1.6mm deep around the whole tyre. Uneven tyre wear - where one side of the tyre is more worn than the other - can indicate poor wheel or suspension alignment. That could be caused by a crash, or simply hitting a pothole at speed, but will need fixing.
Tyres that are worn excessively around the middle of the tyre, or around both edges point to consistent under- or over-inflation and will need replacing.
Used car interior checks
The condition of a car's interior can help to indicate whether the mileage is genuine. A car with 20,000 miles on the clock should have an interior that's almost like new - if it's tired and worn, especially the steering wheel, seat bases and side bolsters, the seller could be hiding something. 
Check for rips or tears in the upholstery, holes drilled in the dashboard and a sagging roof lining. A smoker's car might be prone to burns in the seats too. If you're happy with the condition, that's fine, but if you're not, haggle some money off the price to pay for repairs.
What's more important is to check all the equipment works, from the lights to ventilation system (or air-con), to all electric features such as the windows, sunroof, radio and central locking. Budget for repairs if you spot anything. 
Boot
In the luggage area, as you can see if the car's got a full-size spare wheel, space-saver or merely a can of foam. Make sure the boot carpet is dry in case of any leaks, and do the same for footwell carpets both front and back. It's also good to check the rear seat folding mechanism works properly and gives you the space you require.
Mileage and warning lights
Hop into the driver's seat and turn on the ignition. This will allow you to check for any warning lights, plus confirm that the car's mileage is as advertised. Beware of potential 'clocked' motors – excessive wear on the pedals, seats and gearstick inconsistent with the odometer reading are all signs of the claimed mileage having been tampered with.
Electronics
Cars are increasingly loaded with technology, and this can quite easily go wrong. Lights are arguably the most important electronic device on your vehicle, so make sure they're working properly. Fogged lenses or uneven beams should all be warning signs, while a dim beam will mean you'll need to change bulbs soon. Also check that the radio, infotainment system, climate control, windows, central locking and any other gadgets work as advertised.
Take a test drive
With the visual checks done, the next key step is to take a test drive. Surprisingly, many buyers don't take this option, but it really is a must. Any good dealer will be happy to accompany you on a drive. Try the vehicle at a variety of speeds, and listen out for the engine noise and any irritating rattles. Make sure the brakes and clutch are responsive and in full working order, too.
Used car documentation
The holy grail of used car purchases is a folder crammed with receipts for work carried out. This enables you to check the car's history for the work carried out and parts fitted. Plus it allows you to check the mileage against what's displayed on the dashboard. A service book is a valuable document too, as you can see who has serviced the car, and when.
Take a look at past MoT certificates too. The mileage should go up by a similar amount each year. If the mileage suddenly decreases, the car could have been clocked - the illegal practice of 'winding back' the mileometer to make the car appear less used than it actually is.
Once you've done all this, it's a really good idea to have a vehicle history check carried out. This will tell you if the car has been written off, is subject to outstanding finance or has been recorded as stolen. The checks are cheap, take just a few minutes to complete and offer huge peace of mind.
How much is your car worth? Find out with our free car valuation tool...