What is an HPI check?
Many adverts will mention that a car is "HPI clear". What does it mean, what is an HPI check and is it something you should consider?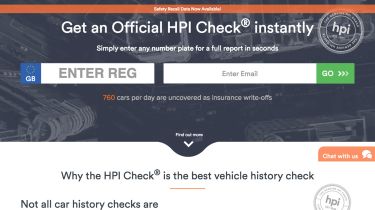 ​When searching for a used car to buy, you will almost certainly have come across the term 'HPI Check' or 'HPI clear', but what do these actually mean? There are always certain risks when buying a used car, you will probably see any physical problems such as rust but any car, even if physically immaculate, could have serious issues hidden in its history.
This is where the HPI vehicle history check is invaluable. This service allows used car buyers to find out more about a car's history before they commit to a purchase. Although a full HPI Check isn't free of charge, it is certainly worth the small extra cost as it provides peace of mind and helps to prevent any costly repercussions further down the line.
The service is called a HPI Check because the company HPI (Hire Purchase Investigation) was one of the first to provide vehicle checks for car buyers. Although originally it only checked for outstanding finance, it now covers insurance write-off, mileage and more.
This service has been around for a number of years - the company HPI was founded in 1938 - while HPI's information was made available to the public in 1993, and the online HPI Check service arrived in 2001. Today, the HPI Check is the industry standard for vehicle history checks, with over 80 points of information gathered. Other companies such as the AA, RAC and Auto Trader now also provide vehicle information checks.
How much is an HPI check?
A full check costs around £20 when done via the official HPI Check website. If you do buy a car that still has finance outstanding, not only is it illegal for the vendor to sell the car, but the finance company (which technically owns the car while the finance is being repaid) can repossess the vehicle, irrespective of the fact that you've bought it.
That means you'll be out of pocket and without your new car, and there's not a lot you can do about it. If you're paying £10k for a used car, then an extra £20 just to double-check a car's status is worth paying for that peace of mind.
Finance companies aren't the only ones who might come and take your car away. HPI added stolen car information to its search just after World War II, so a check should ensure that the police won't come and repossess your car either.
HPI extended its reach further in the 1980s by adding crash history data supplied by insurance companies. Checking for a write off is essential, as cars with damage are worth less and may have been repaired badly. Using the identity of a write off is also a common way to disguise a stolen car.
These days, with so much information stored online, HPI claims that its check accesses 80 different data points to help make sure a car comes with no hidden surprises. When you pay for a vehicle history report, it will provide information in the following areas:
HPI vehicle history check checklist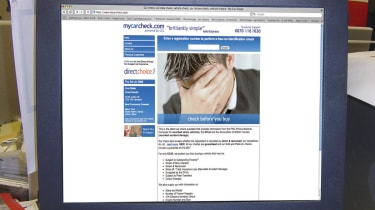 Outstanding finance and/or logbook loans – have all the debts against the car or debts in which the car was used as security, been paid off? If not, it still belongs to a finance company.
Write-offs – has the car previously been classed as an A, B, C, D write-off, or the newer S or N write-off categories by an insurer?
Theft – has the car been recorded as stolen on the Police National Computer?
Mileage – HPI's own mileage register holds 200+ million speedometer readings.
Previous owners – HPI can tell you how many previous owners a car has had, courtesy of the DVLA database.
Number plate changes – again harvested from the DVLA records. Many cars have a cherished registration, but it is good to check these are all in order and not being used to disguise a past.
VIN/Chassis numbers – allows you to check recorded engine and chassis numbers against those on the car itself.
Scrapped vehicles – as with Cat A and B insurance write-offs, you don't want a car that shouldn't even be on the road.
Imported/exported vehicles – cars built for foreign markets can be harder to insure or repair, while cars registered as exported shouldn't be for sale here at all.
MoT status – is that MoT certificate you've been shown genuine?
Road tax/Fuel costs – useful for cars that use the older emissions-based road tax system, plus you'll get an estimated cost of fuel over 12,000 miles.
What doesn't the HPI Check tell you?
While the check will confirm how many previous owners a car has, it won't tell you who those owners were – so in that sense it won't help you research extra details of the car's history, for example revealing if a car has previously been owned by a car hire company.
The HPI Check doesn't provide details of any previous accidents which haven't written the car off, or its service history either. So unless you are buying a car that has been given a Category A, B, C, D, S or N write-off classification by an insurer, you'll need to rely on a seller – or your visual inspection – to tell you that. The HPI check also does not record the car's service history, but this can usually be found within the owner's handbook.
Also bear in mind that a stolen car could have been disguised to hide its identity. So check the chassis number (from a number of locations – you can look online to see where to find them for a particular model) as well as the registration.
Our advice on car history checks
With all this information at your fingertips, and because it's provided at a relatively low price, it really is a false economy not to pay for a car history check – especially if you're handing over a significant amount of cash for your new purchase. Of course, if you are buying privately from somebody with a car you already know well, then an HPI Check isn't quite as critical. And if you're buying from a used car dealer, you can reasonably demand they provide a free HPI Check for you - and besides, some companies use the HPI Check facility to encourage buyers through the door.
There are also cheaper alternatives to HPI checks which allow you to tailor the check to what you need. On a banger, for example, you might not be too concerned about the finance status but would want to know if the car has been in a serious accident.
Other checks, such as the stolen status and MoT history, can also be checked for free by looking around on the internet and checking sites such as https://isitnicked.com and https://www.gov.uk/check-mot-history
It is worth bearing in mind, however, that even HPI checks are far from foolproof. An Auto Express investigation found that some cars that have been written off are being repaired and listed for sale to unsuspecting buyers, with HPI checks failing to show any indication of the fact these cars have been in a major accident.
Have you ever bought a car and wished later that you'd done an HPI check? Tell us about it in the comments...