Best-prepared cities for electric cars revealed
Southampton is the UK city most prepared for electric cars, followed by Brighton & Hove, and Portsmouth, new research shows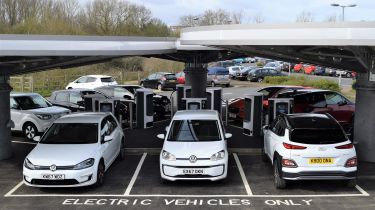 The major UK cities most prepared for electric cars have been revealed, with coastal settlements taking the top three spots.
Researchers looked at the UK's 10 most congested cities and worked out which are most prepared for electric cars, based on factors such as the number of public EV charging points they have; how much that number increased in the first six months of 2019; the population of the city; the number of alternatively fuelled cars registered; and residents' views on EVs.
The city deemed to be the most-prepared for electric cars was Southampton, which has a population of 252,796 according to the latest estimates. There are 77 EV charge points in the city – 13 per cent more than at the start of 2019. With 1,023 alternatively fuelled cars registered there, that equates to 7.53 per 100 cars. The data also showed that 60 per cent of Southampton's residents agree that EVs are the future of motoring.
Brighton & Hove ranked second on the list, offering 47 chargers for its 290,395 residents and their 1,591 alternatively fuelled cars, equal to 2.95 charging points per 100 cars, with 70 per cent of thinking EVs are the future.
The analysis, which comes from Euro Car Parts, found Portsmouth was the third best-prepared city with 25 chargers – 0.34 per 100 alternatively fuelled vehicles. Although this may not sound like much, there was a 127 per cent increase in the number of public charge points in the city in the first six months of 2019.
London came ninth on the list – it has 3,966 chargers for 123,488 alternatively fuelled cars, equivalent to 3.21 per 100 cars. There's work to be done, though, as many more public charge points will be required to meet the needs of the capital's 8,908,081 inhabitants.
A poll by YouGov of 2,000 UK drivers saw 66 per cent state "not enough charging points" and "being stranded without charge or accessibility to charging services" as their main EV-related concerns, with only two per cent saying they would consider an EV as their next car.
There has been a 28 per cent increase in the number of charging points being installed year-on-year since 2016, with 322 public chargers per 10,000 low emission vehicles expected by 2034.
The sale of all new conventional petrol and diesel cars is set to be banned in 2040, with the Government projecting most vehicles on the road be zero-emission by 2050.
Do you think more cities should be better prepared for electric cars? Let us know in the comments below...