"Britain's car bosses are in demand around the world"
With so many incredible automotive innovations in the industry, it's no wonder that Britain's car bosses are in demand says Steve Fowler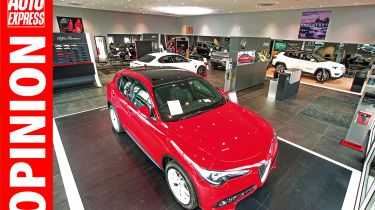 There are many things the British car industry does that are the envy of the rest of the world and much copied. We do luxury better than anyone else. We combine that luxury with performance better than anyone else. And we sell cars better than anyone else.
Among the many incredible automotive innovations we've seen over the years, the humble PCP deal ranks alongside them in my view. That might seem like a strange thing to say, but for the industry it's kept sales going when they might otherwise stagnate, guaranteeing customers have to go back to the showroom at the end of the term, even if it's just to hand the car back. For buyers, it's made owning a new car more affordable than ever.
Yes, it's not only the engineers and designers that deserve praise for innovation, British marketeers and sales staff deserve a doff of the hat, too. Never is their brilliance more apparent than when the pressure is on to sell. And now is a pretty challenging time to be selling cars in the UK.
I'm a big admirer of the clever sales techniques brands come up with, so I give you 'Deal or No Deal' from Fiat, Alfa, Abarth and Jeep. Their dealers will guarantee that any deal negotiated before Brexit day on October 31 will stand even if your car is delivered sometime later. When nobody knows what will happen to car prices and values, finance rates or the economy in general, that's giving buyers a degree of certainty when uncertainty is the norm.
Then there are the deals themselves and the low, low prices. Suzuki offering zero per cent finance with zero deposit on some of its cars. And the Vauxhall Corsa may be about to be replaced, but it's still some car at £159 down and £159 per month. Look even harder and you can have a brand new car on your driveway for less than the price of a posh coffee every day. It's no wonder Britain's car bosses are in demand around the world. Brits are brilliant and innovative salespeople.
Do you agree with Steve? Let us know your thoughts in the comments below...