Red route restrictions rise as councils try to ease congestion
Growing number of red route parking restrictions have led to a 14-fold increase in penalties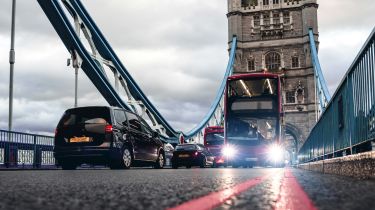 A growing number of UK councils have introduced red-route parking restrictions, leading to a 14-fold increase in penalty charges over the last five years, Auto Express can exclusively reveal.
Double red lines and other red route restrictions, such as single red lines and signposted red routes, were introduced in London in 1991 to prevent drivers parking on busy thoroughfares. Since then, 360 miles of red route have sprung up in the capital, with drivers fined £110 for parking on the routes, and Transport for London generating revenue of £32.8million in the 2016/17 financial year from fines.
• Best parking apps for your phone
Other local authorities are now following suit, with 15 councils outside London confirming they have either introduced red routes, or are planning to do so. Nine councils already have schemes in place, with six authorities confirming they are planned.
The nine local authorities outside the Capital operating red routes are: Aberdeen, Blackburn, Castle Donington, Coventry, Leeds, Nottingham, Reading, Sheffield and Solihull. Combined, those authorities have issued 19,287 penalties worth £1,350,090 over the last five years. The growth of red route schemes means the number of penalties has increased from just 766 in 2015, to 10,499 in the first 10 months of 2019.
Solihull, West Midlands, was one of the first places outside London to introduce the restrictions, and the town now has 19 miles of red routes, generating fines worth about £73,290 in 2019. The six councils with plans to introduce red routes are Knowsley, Trafford, Thurrock, Brighton, Leicester and Newcastle.
A spokesperson for the Local Government Association (LGA) called red routes a "vital safety measure for roads where it is essential to make sure traffic is kept moving, and to reduce congestion". The LGA also stressed that income from red-route penalties is spent on parking services, with surplus revenue going to local transport projects such as pothole filling and concessionary bus fares.
Nicholas Lyes, head of roads policy at the RAC, said he felt red routes were "being introduced for the right reasons, which are guaranteeing access for the emergency services and ensuring traffic flow isn't disrupted by parked vehicles, rather than as a new way of bringing in additional revenue for cash-strapped councils".
Do you think red route parking restrictions are a good idea? Let us know your thoughts below...