"Cutting ties with the EU means travel will be different, but this shouldn't stop you going"
As Britain exits the European Union, Mike Rutherford believes this shouldn't discourage drivers from travelling to the continent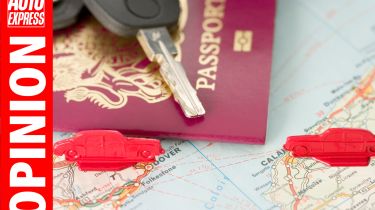 Winter is loosening its grip, our commuting hours are becoming lighter and safer, and the Geneva Motor Show, which signifies the start of Spring, is barely a month away. Therefore life is good.
Also, since I've decreed that 2020 is the year of the road trip, the time for planning and booking is now – while there are hot deals for hotels, dining, ferry crossings, car purchases/rentals and free fuel (honest).
• Driving in Europe after Brexit
Early bird offers are increasingly popular, so exploit 'em. Example: this week (29 Jan-4 Feb) the organisers of August's British Motor Show in Farnborough, Hants, are exclusively offering Auto Express readers 10 per cent off admission prices.
Other early bird bargains can be had when taking road trips to mainland Europe later in 2020. P&O has been selling Dover-Calais-Dover car+passenger 'Saver' tickets at an all-inclusive starting price of £25. Additionally, £30 fuel vouchers can be claimed by some customers booking P&O crossings; just search for 'P&O early booking deal' online.
That said, over the next few days I'd avoid taking a car to the Continent by ferry or through the Chunnel. Why? Because Britain left the European Union on the final day of January.
Scaremonger? Moi? Never. But seriously, I'd rather be over than under-cautious when it comes to moving valuable vehicles and precious family members across international frontiers at a time when some border posts maybe subject to transition, upheaval, political pressures, teething troubles and delays.    
If you can't wait for the dust to settle, at least check with all interested parties that you, your occupants and your car are fully insured. If you're the user rather than the owner of a vehicle, and really cautious, get written permission that you have the legal right to take it to the EU. Apart from the obvious practice of carrying your passport and UK driving licence in your pocket (not the glovebox), it can do no harm to also carry registration, MoT and other vehicle documents on you, plus an International Driving Permit (IDP).
No photocopies, please, originals only. Also, do buy that GB sticker you haven't bothered with for years, and follow the drink-drive, speeding, parking and kit laws (spare bulbs, hi-vis vests, etc), while remembering that the Continent's cops can't be as sympathetic as ours. 
And keep reminding yourself that Britain remains a European country; holders of British passports remain Brits and Europeans. True, the decision to cut ties with the EU means travel will be different, but this shouldn't stop you going – with or without your car. In the future, as in the past, this true Brit-cum-European will certainly be visiting and enjoying the far less congested roads and other joys of the Continent.
To claim 10 per cent off British Motor Show tickets, head to ticketmaster.co.uk/promo/yuoynf between 29 January and 4 February and enter the code autoexpress.