'How can we hit 2035 targets with no electric car incentives?'
With the upcoming 2035 petrol/diesel/hybrid ban, consumer editor Hugo Griffiths thinks it's crazy that the EV grant could be scrapped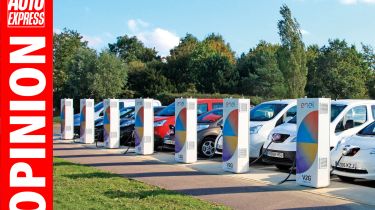 We're only in February, but a contender for the biggest motoring story of the year has already emerged. The announcement that the ban on sales of new petrol and diesel cars is being brought forward by five years to 2035 is significant enough, while everyone was caught off guard by news that the ban will cover hybrids and plug-ins, too. Then, days later, a government minister revealed that the current electric vehicle grant – bringing a sizeable £3,500 saving on the cost of an all-electric car – could well be scrapped by the end of March.
So we have 15 years to buy new petrol, diesel and hybrid cars (and EVs, for that matter). Based on current sales, that equates to 34.5 million new models finding homes – equivalent to every single car in the UK being replaced. Oh, and it applies to vans, too – not the best of news for the UK's small-business owners.
However, the second-hand market looks like it will remain an untouched haven for petrolheads. With the average car being 14 years old at scrappage, this is as much a 2049 story as it is a 2035 one, then.
Drivers also know there are hurdles to be cleared for 2035 to become a reality: infrastructure, range, lost fuel duty and the cost of EVs are among these, and, as usual from the Government, there's no clarity on much of that.
It is impossible to argue with the need to improve air quality, while electric cars offer genuine advantages; the recent cold snap, for example, provided a missed opportunity to highlight the benefits of cabin pre-heating, which many EVs now offer.
People need their cars and are attached to the freedom they provide, while petrol and diesel have a century of legacy in this country. Cooperation between government and drivers is key to making the switch to electric work. That a Transport Minister was willing to speak with us is encouraging, but drivers need to be sold a dream, not threatened with an expensive nightmare.
Do you agree with Hugo? Let us know your thoughts in the comments below..