New vans to get 75mph speed limiter
EU voices plans that it is looking to introduce a max-speed limiter on all new vans.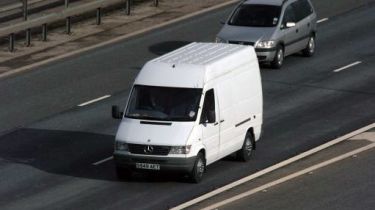 Car drivers fear they could next in-line for European-imposed speed limiters following an EU proposal to electronically cut the speed of new vans to 75mph.
The mooted emasculation of white van man is nothing to do with safety, but is instead a bid to cut the CO2 emissions levels of all vans to a car-like 135g/km by 2020.
While many drivers would welcome the end to fast-lane harassment by high-powered Mercedes Sprinters, motorist groups have taken fright at what they perceive to be 'the thin end of the wedge' of future in-vehicle speed restrictions. "We might get assurances that it'll only be about vans, but we wouldn't trust them not to extend to it to every type of motor transport, including cars and motorcycles," said a spokesman for the Association of British Drivers.
Many UK companies including British Gas and the Royal Mail already limit van speeds to cut fuel bills, reduce accidents and limit the PR damage of having liveried vans overtaking at dangerous speeds.
With fleet managers keeping a close eye on the behaviour of drivers during work hours, limiting the speed of company cars could be the next step. "The commercial driver is under greater pressure than ever to stay within the law as managers contend with tougher corporate manslaughter legislation," says Paul Watters of the AA.
Predictably, van drivers are not keen on limiters, believing them to be dangerous. Posting on the Businesscar website, van driver Russ said: "Just picked up my first restricted Renault Trafic today. As you sit there at 68mph, because there is no control or throttle adjustment needed, it is far easier to start to lose attention."
Businesses have sprung up to remove limiters, with one company Van Tuner offering to derestrict former British Gas and Royal Mail vans for between £100-300.
How do you feel about the plans to electronically limit the speed of vans? Do you think it's good that speeding van drivers will be finally curtailed, or is this is one EU intervention too far? Have your say below!
Extra Info