Watchdog: £75 offer for five-month delay
Volvo settles five-month parts delay with £75 worth of "goodwill" vouchers for furious XC90 customer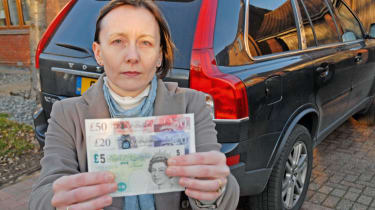 How much do you have to spend before you can expect good service? Is £46,000 enough? Anna and Cormac O'Keeffe thought so, having paid that much for a Volvo XC90 Executive in July.
But when a part delay dragged on for five frustrating months, with numerous trips to the dealer along the way, Volvo offered a measly £75 to make amends.
The couple noticed the leather on the rear seat of their XC90 was discoloured soon after buying, so took it to their local Volvo dealer, Essex Auto Group in Rayleigh.
Cormac explained: "It may not seem like a big deal, but when we'd spent so much money on a car, we felt it should be free of defects." Luckily, the garage agreed the leather should be fixed under warranty.
But when the part turned up, it was the wrong one. It then took a staggering four months before its replacement arrived, and to the O'Keeffes' disbelief, it was wrong again! At last, on the couple's fifth visit to the dealer, they found that the correct part had been ordered and in mid-January the work was carried out.
The O'Keeffes complained to Volvo, and were offered £75 in vouchers as a goodwill gesture, which they quite rightly rejected. So Auto Express called to complain, too. But the manufacturer was adamant its offer was appropriate, despite the inconvenience the O'Keeffes had suffered at its dealer's hands.
A Volvo spokesman said: "Regrettably, mistakes do occur. We have done everything we can to help the customer, keeping them informed and vigorously pursuing their case."
However, Auto Express readers weren't convinced. The vast majority of visitors to our Facebook page believed that the gesture was inadequate. And when we asked what Volvo should have offered, the most popular suggestion was a free service.
One user, Nigel Back, said: "Free servicing and an extended warranty are the least I'd expect, but more importantly, I'd want to know why it's taken so long."
The problem
A minor warranty repair on a Volvo XC90 turned into a catalogue of errors after it took five months to sort. Volvo offered a mere £75 in compensation.
Volvo's response We asked Volvo to make a more generous offer, but it wouldn't budge. A spokesperson said: "We can't add anything to our previous offer."
Legal advice A defect on a new car falls under breach of contract. The manufacturer has to rectify this. Costs can be claimed but they need to be mitigated, and it's more difficult to claim for inconvenience.
Our verdict This derisory offer of just £75 is likely to lose Volvo a loyal customer – when the offer of a free service and an extended warranty could have persuaded the O'Keeffes to stick with the brand in future.