Car manufacturers ditch spare tyres
Auto Express study shows only a sixth of new cars get a full spare wheel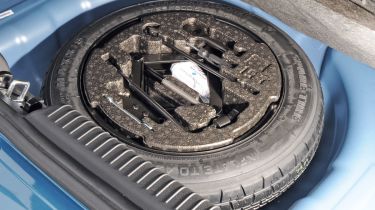 Just 17 per cent of new cars sold in the UK come with a full-size spare wheel as standard, Auto Express can reveal.
We spoke to 19 of the biggest car makers to find out how many of their models have a space saver wheel or repair kit instead of the real thing. Out of a total of 233 models, just 39 came with a full-size spare in the boot.
The RAC claims it receives more than 80,000 call-outs a year from motorists with no spare tyre. Meanwhile, Green Flag has reported a 20 per cent increase in the number of people left stranded because of this.
A number of manufacturers don't offer a full-size spare as standard on any car, including Audi – which uses a mix of space savers and repair kits. At the same time, the entire Volvo range gets repair kits. BMW, meanwhile, provides no repair facilities except on its M models, as its cars use run-flat tyres.
Some of the companies we spoke to do offer a space saver or full-size spare, but only as a cost option. Prices range from £80 for a space saver on a VW Touareg to £150 for one on any Volvo.
Reasons for leaving full-size spares off the standard spec list varied. A Skoda spokeswoman argued: "By having a tyre repair kit as standard, it reduces the weight of the car and maximises the fuel economy and CO2." Ford explained: "The tyre inflator kit is quicker, cleaner, easier and safer to use than having to change the wheel on the roadside." Ford also pointed out that all its new cars come with free roadside assistance if you do need help.
However, while the repair kits can fix minor punctures, if the damage is more serious then there is no choice other than to call a breakdown service. Even if the kit can be used, you can't drive faster than 50mph, and if you're stuck with a space saver, you're also limited to 50mph.
Who offers spares?
| | | | | |
| --- | --- | --- | --- | --- |
| Make | Number of models | Full size spare | Space saver | Repair kit |
| Audi | 12 | 0% | 75% | 25% |
| BMW* | 30 | N/A | N/A | 23% |
| Citroen | 15 | 53% | 0/% | 47% |
| Chrysler | 4 | 0% | 50% | 50% |
| Fiat | 7 | 0% | 71% | 29% |
| Ford | 9 | 33% | 0% | 67% |
| Honda | 7 | 0% | 14% | 86% |
| Hyundai | 11 | 28% | 72% | 0% |
| Jeep | 3 | 67% | 33% | 0% |
| Mazda | 6 | 0% | 33% | 67% |
| Mercedes | 19 | 16% | 42% | 42% |
| MINI | 6 | 0% | 0% | 100% |
| Nissan | 10 | 20% | 30% | 20% |
| Peugeot | 17 | 76% | 6% | 24% |
| SEAT | 6 | 0% | 17% | 66% |
| Skoda | 17 | 0% | 0% | 100% |
| Suzuki | 9 | 6% | 67% | 22% |
| Toyota | 17 | 6% | 65% | 29% |
| Volvo | 10 | 0% | 0% | 100% |
| VW | 18 | 33% | 44% | 17% |
*All BMWs get run-flat tyres, except M-badged models