This week's issue of Auto Express
In this week's issue we test the new Porsche 911 Turbo S against the McLaren GT and check out the new Peugeot 3008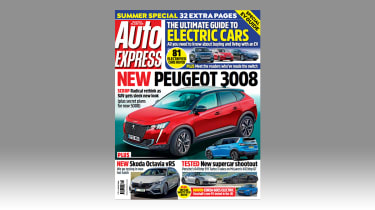 In this week's issue of Auto Express we have exclusive images of what the new Peugeot 3008 could look like and what the future hold for its bigger brother 5008.
We also test the new Porsche 911 Turbo S against the McLaren GT to see which is the best grand tourer.
Plus, we try out the hot new Skoda Octavia vRS and find out if it's finally a worth match to the likes of the Renault Megane R.S. and Volkswagen Golf GTI.
For those looking for an electric car, our handy buying guide is essential reading - featuring testimonials from electric car owners.
If that wasn't enough we also test Vauxhall's new Corsa-e in the UK and see if it can rival the Honda e and Peugeot e-208 in the electric supermini segment.
Of course, there's also our usual array of long termer tests, product tests and used used as well.
How to buy Auto Express
This week's issue of Auto Express is on sale now for just £3.50. You can find shops near you that stock the magazine by clicking here.
You can also buy individual issues of Auto Express or subscribe for even bigger discounts on the magazine cover price. Click here to subscribe and get 6 issues for just £1.
Print magazine subscription prices
6-issue subscription £1.00
13-issue subscription £22.99
26-issue subscription £45.99
51-issue subscription £91.99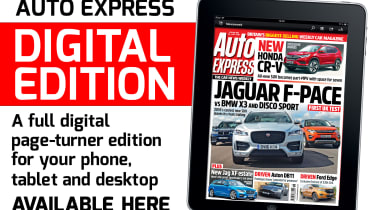 The Auto Express digital edition
Whether it's inside info on the hottest new models, the definitive verdict on the best cars on sale, or the lowdown on the Government's latest transport policy, we provide everything you need for your weekly motoring fix with our digital editions of Auto Express. You can get the digital magazine through the links below...
The Auto Express app gives you the latest issue of the Auto Express print magazine in digital form, perfectly optimised for your iPhone or iPad.
Digital edition subscription prices start from from £1.78 per issue...
3-month subscription £17.99
6-month subscription £35.99
12-month subscription £69.99
Sign up to our e-mail newsletter for all the latest car news FREE in your inbox...