Wireless charging electric cars on UK roads in 2017
Qualcomm Halo reveals wireless charging BMW i3 and i8 safety cars for Formula E, says tech will be available to customers within three years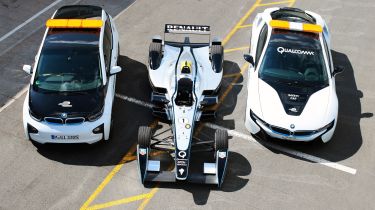 Wirelessly charged electric cars could be available to buy as soon as 2017, according to the company developing the technology with car manufacturers.
Qualcomm Halo has been working on wireless charging technology for several years, and last week unveiled a BMW i8 and i3 fitted with a prototype version of the system. These cars will be used as safety and medical response vehicles for the new Formula E electric racing championship, where they need to be able to deploy rapidly – something that wouldn't be possible if they were plugged in to charge.
• Renovo Coupe: new electric supercar unveiled
Dr Anthony Thompson, vice president of business development and marketing for Qualcomm Halo, told Auto Express: "We're in discussions at some level with all of the major companies developing electric vehicles, and some requests for quotations have already gone out. We'd expect to see the system on a production car by 2017."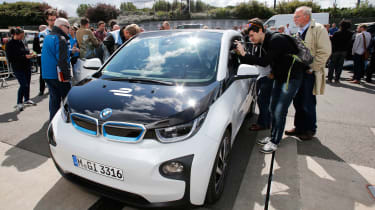 It's not yet clear how much more expensive a wirelessly charged EV would be compared to one with a conventional charging cable, but Dr Thompson indicated the technology was likely to debut on luxury and high-end vehicles first, before filtering down to more mainstream models in a few years.
"A member of senior management at one of the carmakers we're talking to told me that they see EVs as a 10-year game," added Thompson. They expect that 50 per cent of the cars they sell will be EVs or hybrids by then – and almost all of them will be using wireless charging by that point, too."
The system works through two charging pads – one on the ground and one attached to the vehicle. Sending a current through coiled wires in the ground pad creates a strong magnetic field, which carries the energy to the pad on the car. The resulting power is then converted to DC and used to recharge the batteries.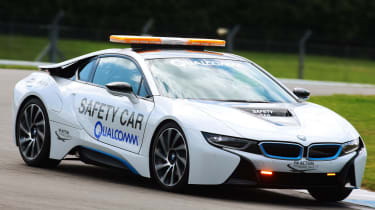 The technology has its origins as far back the earliest experiments with electro-magnetism in the 19th century, and is currently used for charging small household items such as electric toothbrushes. "The technology is easy to conceive, but difficult to implement on the scale necessary to recharge an electric car," said Thompson. "It's only really become possible in the last 20 years."
Integrating wireless charging technology with an existing electric car design requires a number of steps, including determining where on the car is the best location for the charging pad. Thompson said that developing the system for the BMW i8 had been a particular challenge, as its carbon-fibre-reinforced plastic body doesn't shield electromagnetic energy the way traditional steel panels would.
The system can transfer power over a gap of around 150mm, and is currently about 90 per cent efficient, compared to 95 per cent efficiency for a cable system. It still works if the pad is wet from rainfall or even covered in snow.​
Find out about the best electric cars you can buy now.