Renovo Coupe: new electric supercar unveiled
Californian start-up Renovo Motors unveils production prototype of its all-electric Coupe at 2014 Pebble Beach Concours d'Elegance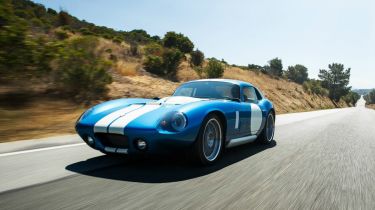 This is a production prototype of the new Renovo Coupe, a Shelby Daytona-based, all-electric supercar that'll apparently hit 0-60mph in 3.4 seconds and max out at over 120mph.
Built by Silicon Valley-based Renovo Motors and unveiled at the Pebble Beach Concours d'Elegance last week, the forthcoming two-seat EV coupe owes its blistering performance to two mid-mounted axial-flux motors. Maxed out, these combine to produce roughly 500bhp and 1356Nm of torque, with the powertrain capable of offering full power in just 0.037seconds.
Fuelling the motors is Renovo's patent-pending lithium ion battery tech, which is divided into three separate packs to improve weight distribution and can be fast-charged in 30 minutes – a design that helps the Coupe weigh in at 1,474kg.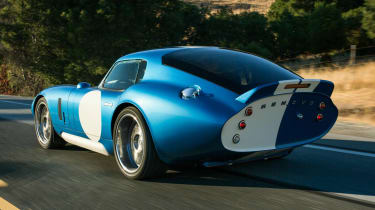 The cutting-edge underpinnings are housed within a factory-modified Shelby Daytona CSX9000 frame, redesigned by designer Peter Brock, who was keen to retain the classic, race-winning outline. "This shape was nearly perfect 50 years ago, and physics doesn't change much over time," explained Brock, tongue seemingly firmly in cheek. "However, the redesigned car has a totally updated body, frame, suspension, and cabin; it's a new chapter for this chassis."
Inside, the Coupe's driver-focused layout adds further retro touches in the form of classic needle gauges, contrasting with the central digital display. There's also a switch allowing for real-time brake regeneration adjustment – similar to the set-up in VW's e-Golf.
"Renovo Motors sought to create an aspirational vehicle that demonstrates the performance, control, and excitement that is possible with EV technology," said CEO Christopher Heiser. "We have poured our passion and innovation into the Coupe in an effort to deliver a truly amazing driving experience."
The Coupe joins the likes of Saleen's Tesla Model S-based FourSixteen – also revealed at Pebble Beach – in taking the game to internal combustion supercars, although one stumbling block for Renovo could be the as-yet-unspecified and all-important range figures.
There's currently no word on price either, but we shouldn't have to wait too long to find out, as pre-sales are now underway ahead of a limited production run in the US next year.
Now find out about the best electric cars you can buy now.