Tesla Model S-based Saleen FourSixteen unveiled
American supercar manufacturer Saleen unveils Tesla Model S-baded FourSixteen at 2014 Pebble Beach Concours d'Elegance
American supercar manufacturer Saleen - best know for creating the rapid S7 - attempted to steal the show at this year's Pebble Beach Concours d'Elegance with its new all-electric, high-performance FourSixteen. Based on the flagship US-spec Tesla Model S, it features a new aerodynamic body kit, improved powertrain components and a revised interior.
• Tesla Model 3 to challenge BMW 3 Series
In terms of exterior styling then, there's a V-shaped bonnet to direct hot air away from the cooling system and help generate downforce, whilst Saleen has adapted the front end, too, adding a carbon fibre rear diffuser and bootlid-mounted spoiler in the process.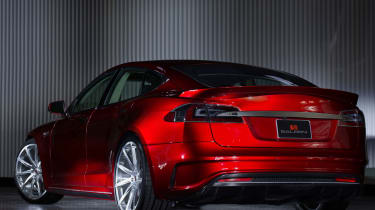 While the Model S' powertrain, complete with 416bhp and 600Nm of torque, is largely carried over, the FourSixteen features a new 'MAXGRIPTM' diff lock and boasts an improved final gear ratio, both of which apparently improve acceleration, throttle response and torque management.
Saleen has also added a new cooling system - made up of a larger radiator, high-flow water pump and revised fans - that should be better suited for trackday use. Finishing the performance-focused updates off is a revised suspension set-up, which can be optioned to include full customer adjustability, and new brake packs.
Inside, the FourSixteen gains black leather upholstery, complete with perforated leather accents and Alcantara suede inlays, plus an entirely new centre console designed to improve storage, and provide that American must have - a cup holder - for both the driver and front passenger. Saleen's track-inspired emphasis is still evident though, owing to the four remoulded and bolstered bucket seats.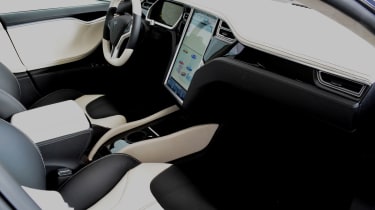 In explaining his company's interest in creating the FourSixteen, founder Steve Saleen said: "Tesla has created an entirely new class of American automobile. There are many similarities to this and how Ford created the 'pony car' class in 1964 with the Mustang, which is how these vehicles stand out from the rest of the pack."
On sale in the US, FourSixteen prices start from $152,000 (£90,865), which covers the Tesla Model S P85 platform and doesn't take into account varying EV incentives available in different states.
More from Pebble Beach and Monterey Car Week 2014
• The Quail 2014: the best cars in pics • Concours D'Lemons 2014 in pictures• Pebble Beach Concours D'Elegance 2014: 10 best cars• Lamborghini Huracan LP620-2 Super Trofeo revealed at Pebble Beach• Video: Range Rover Sport SVR revealed at Pebble Beach