Lamborghini Huracan review
The Lamborghini Huracan is a flamboyantly styled supercar with performance that matches its looks
Find your Lamborghini Huracan
Offers from our trusted partners on this car and its predecessors...
Or are you looking to sell your car?
Advertisement
The Lamborghini Huracan might lack the visual theatre of some of the previous models to come out of Sant'Agata – it's no Countach – but it has the potential to turn heads like any self-respecting supercar.
That it shares much in common with the Audi R8 hardly seems to matter, especially when the beating heart of a 5.2-litre naturally aspirated V10 engine is sat behind the seats. It feels every inch a Lamborghini, even if it's only the final assembly that takes place at Lamborghini's factory.
The Lamborghini Huracan LP 610-4 had a pretty tough job on its hands when it launched in 2014, as the successor to the marque's most popular car ever, the Gallardo.
The Huracan's predecessor sold over 14,000 copies over its 10-year lifespan, so as you'd expect, the VW Group-owned supercar maker did little to change the basic formula of its replacement. Which means the Huracan is an affordable – well, relatively speaking! – two-passenger mid-engined supercar. A meaty V10 nestles behind the seats, while four-wheel drive offers reassurance and grip on the road for when you unleash the 600bhp+ onto unsuspecting tarmac.
Lamborghini now offers the Huracan in a three-car 'Evo' range. If the standard coupe is not enough of a thrill, there are two further configurations - the Huracan Spyder roadster model, and a slightly less-powerful, but more driver-focused two-wheel drive coupe. 
All the Huracan engines are normally-aspirated variations on Audi's 5.2-litre V10, and the model was launched with a brand new aluminium and carbon-fibre chassis. With performance to match its wild looks, even the 'slowest' Huracan 0-60mph time is barely over three seconds, while top speed sits at around 202mph, ensuring Lamborghini will rarely be embarrassed in a game of Top Trumps.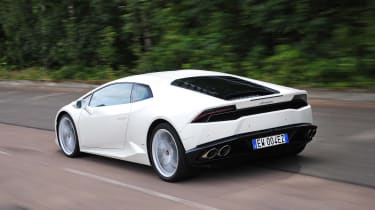 The Lamborghini shares much more than its engine with the Audi R8, as most of the chassis and powertrain engineering is carried over, too. It means the R8 must be counted as one of the key Huracan rivals, particularly as it's a cheaper proposition and offers quattro four-wheel and two-wheel drive. The other rivals for the Huracan are either mid-engined supercars like the McLaren 570S, Honda NSX and Ferrari 488 GTB, or four-wheel drive coupes like the Porsche 911 Turbo, Jaguar F-Type SVR or Nissan GT-R Nismo.
Huracan buyers might also be tempted by luxury front-engined GT cars like the Aston Martin DB11 V12, Mercedes-AMG GT S and Maserati GranTurismo.