Lamborghini Huracan LP 610-4 2014 review
New Lamborghini Huracan LP 610-4 replaces Gallardo, and Lambo's smallest car is better than ever
The Gallardo has grown up and Lamborghini has created a car with all the style and noise its customers expect, but that's easier to drive everyday and friendlier on the ragged edge. For that reason it's a huge improvement over its predecessor and will appeal to a wider audience. Whether it's exciting enough to see off the Ferrari 458 and McLaren 650S though, remains to be seen…
Jaw-dropping design and brutish performance are no longer enough for a Lamborghini to succeed. These days, whether you're crawling through the streets of Monaco, hustling down a British B-road or posting lap times on a track, the new Lamborghini Huracan LP 610-4 needs to perform. And if that wasn't enough, it has some rather large Gallardo-shaped boots to fill.
Its predecessor shifted 14,000 units over a glittering ten year career, and Lambo has its sights set even higher for the Huracan. The game plan is simple – to keep costs down by sharing its chassis and other major components with the new Audi R8, and leverage the might of the VW Group's engineering division to simultaneously make it easier to drive and more thrilling at the limit.
Before we delve into the technology though, let's examine the styling. It's certainly not one of its most adventurous shapes, but viewed on a public road the wedge-like silhouette, immaculate proportions and intricate details – such as the honeycomb grille and slatted engine cover – push all the right buttons.
There are no scissor doors for the Huracan – that flourish is reserved for the larger V12 Lamborghinis – but you sit suitably low, enveloped by the firm sports seats and sloping centre console, with superb visibility all around. The design team know exactly how to play up to your childish fighter-jet fantasies with a flip-open ignition switch cover and a new 12.3-inch display behind the wheel that shows your speed, revs, sat-nav and infotainment information in a variety of configurations. The build quality is audi-like in its execution, but the sense of occasion is unmistakably Italian.
While Ferrari has turned to turbocharging in the new California T and other manufacturers continue to downsize their high-performance engines, Lamborghini is sticking to its guns. The Huracan's only engine is a overhauled version of the Gallardo's naturally-aspirated 5.2-litre V10 producing 602bhp and 560Nm of torque – 75 per cent of which is available at just 1,000rpm although the redline is 8,250rpm.
Stop-start and a new fuel injection system cuts fuel consumption and CO2 emissions by 11 per cent to 22.6mpg and 290g/km, still woeful by any normal standards, but given the fireworks this engine is capable of it's a trade-off we're happy to accept.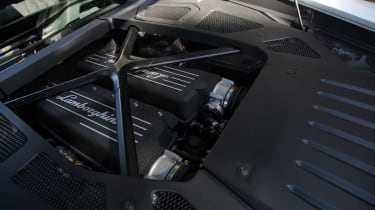 Don your Top Gun-style aviators, flick open the red cover, push the ignition and the engine barks into life before quickly settling into background chatter. Find a suitable straight, extend your right foot and the Huracan bolts forward with alarming urgency – it can't match the free-revving character of the Ferrari 458's V8, or the rush of turbocharged torque from a McLaren 650S, but this is still a mighty powerplant at the top of its game. Thanks to a perfectly linear power delivery, though, it never feels intimidating, while its hard-edged soundtrack has lost none of its volume.
The step change between this and the Gallardo is the new seven-speed twin-clutch gearbox. Whereas the old automated manual E-gear transmission would lurch alarmingly from one ratio to the next, the new Lamborghini Doppia Frizione (LDF) feels as smooth as a DSG in a VW Golf. Wind the engine up towards its 8,250rpm redline, pull the right paddle and the next gear engages with zero interruption to the torque. Leave it in auto and the only clue that the cogs are swapping at all are scrolling numbers on the instrument panel.
To ensure the Huracan handles with more speed and predictability than the Gallardo, a significant chassis evolution has taken place. The starting point is a new platform with a resin transfer mould (RTM) carbon-fibre rear bulkhead and transmission tunnel glued and riveted to an aluminium space frame chassis. The result is a body that weighs 10 per cent less than the Gallardo, but is 50 per cent stiffer.
Three stage adaptive dampers, speed-sensitive variable-ratio electro mechanical steering and a new electronically controlled four-wheel drive system – with a 30:70 front/rear torque split in normal operation (although it can send up to 50 per cent to the front axle and 100 per cent to the rear when required) - are new additions. A mind-boggling new 'LPI' system also uses a series of accelerometer and gyroscopes at the car centre of gravity to communicate with the steering, gearbox, four-wheel drive and ESC exactly what the car is doing – and prime them accordingly.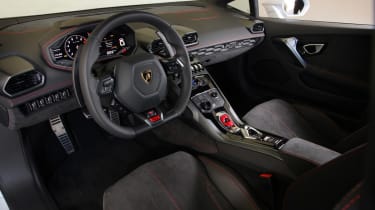 The key to controlling the Huracan's nervous centre the AMINA switch. Mounted at the base of the steering wheel, it offers three driving modes – Strada, Sport and Corsa. Select Strada and the adaptive dampers soften up – making the Huracan far comfier and more civilized than any Gallardo that's gone before. Crank it up to Sport and everything tightens up – perfect for a spot of fast road driving, while Corsa loosens the ESP and makes every control more immediate, so you can extract as much performance as your talent will allow.
The new optional electromechanical steering system weights up a little in Corsa mode, but is always light and ultra-precise. The variable ratio is obvious in tight corners, where you can carve out a line without crossing your hands, but adds too much guess work into the mix – we'd stick with the standard set up.
With all four tyres putting the power down, the way the Huracan covers ground is truly astonishing – perhaps only a Nissan GT-R could live with it down a slippery B-road, but over step the limit and it doesn't behave quite as you'd expect. The rear will step out with some serious provocation and you can trim your line with a well-timed lift of the throttle, but more often than not it tends to understeer, which doesn't exactly tally with the rest of its flayboyant character. The Huracan hasn't gone soft, but this is definitely the most civilized interpretation of Lamborghini's values we've seen yet.