VW e-Golf electric car review
Does the VW e-Golf electric car bring out the best in the all-conquering Golf, or spoil the benchmark hatch?
The VW e-Golf's 118-mile of range is not a great deal and £25,845 is a lot of money. But those common EV flaws aren't likely to put off fans who's been waiting for the most conventional take yet on a zero-emission car. Our bigger concern is with the e-Golf's harsh ride, which is a bugbear no matter how far or fast you're planning to travel.
You'd imagine the VW e-Golf electric car to be more compromised than a Nissan Leaf – the Nissan is a bespoke electric vehicle after all, whereas the e-Golf is just a plug-in version of VW's ubiquitous hatch.
Cynics could even argue the e-Golf is a step backwards: its 318kg battery pack cancels out the MQB platform's 90kg weight saving versus the old Golf, and more. And there's the problem that blights all electric cars – the cost. So is the e-Golf good enough to justify its GTI-matching £26,000 price?
The e-Golf is over 200kg heavier than a diesel-powered Golf, and 56kg weightier even than a Nissan Leaf, but 270Nm of instant torque is a mere toe-poke away, reaching the front wheels via a single-speed transmission that spins to 12,000rpm.
More reviews for e-Golf Hatchback
The e-Golf responds to minute throttle inputs with satisfying squirts of acceleration, and is actually a tenth quicker to 62mph than the 88mpg Golf Bluemotion, and far more responsive in-gear, up to and including a 75mph motorway cruise. More relevant to city driving is the 0-37mph time of just 4.2 seconds.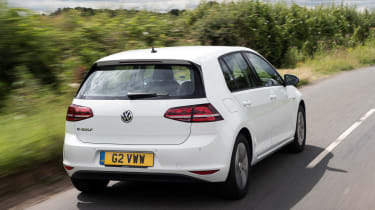 Unlike performance cars, which let you make the chassis settings progressively more aggressive, the e-Golf lets you set the driving mode to make the most of the claimed 118-mile range. These modes, called Eco and Eco Plus, drop motor power down to 94bhp or 74bhp respectively, and round off the edgy throttle response.
Air-conditioning is limited in Eco and banned entirely in Eco Plus, and the top speed falls to 71mph and 56mph respectively. However, pushing through the throttle pedal's kickdown step brings full power back online no matter the current mode.
The Golf has earned a reputation as a benchmark for refinement in its class, and replacing hundreds of oily, moving parts under the bonnet with just a handful only serves to enhance those manners. Low-rolling resistance tyres, smoothed bodywork and flattened wheel trims mean wind noise is lessened too.
Just as the familiar Golf exterior barely lets on about the lack of internal combustion (C-shaped LED running lights and aero wheel trims aside), the e-Golf's GT-grade interior too is not at all intimidating to a first-time EV driver. Aside from the rev counter now showing regenerative braking (which works in three levels of severity) and a charge indicator in place of a fuel gauge, the e-Golf's cabin is entirely conventional.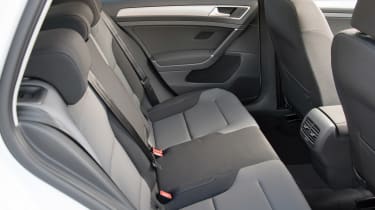 It even uses the gear selector from DSG-equipped VWs, albeit decked out in blue stitching. Anchoring the battery beneath the cabin doesn't actually impinge space inside the e-Golf either, but there's now no spare wheel well beneath the 341-litre boot.
Despite the best efforts of VW's crack chassis team, 300kg of low-set ballast takes its toll on the e-Golf's handling. At the extremes of grip it's notably less nimble than a standard Golf, and those limits are breached plenty sooner thanks to the harder-compound eco-tyres designed to cut drag, not dig its nails into the tarmac and resist understeer. The Mk7 Golf's quick, fluid steering has at least survived intact, making the e-Golf easy to thread in its intended urban environment.
Unfortunately, the suspension has been retuned to cope with lugging that battery around, doing the Golf's urban comfort no favours whatsoever. The mass is admirably well controlled: only properly undulating B-roads force the weighty body to pitch and heave on its stiffer springs. But return to the e-Golf's natural habitat of city streets and you'll feel ridges and drain covers that you wouldn't in the standard car.