"Looming 2015 Election is forcing the coalition to address 30m motorists they've ignored so far"
We've had morsels of good news for motorists recently but Mike Rutherford thinks we're just been sweet-talked ahead of the 2015 election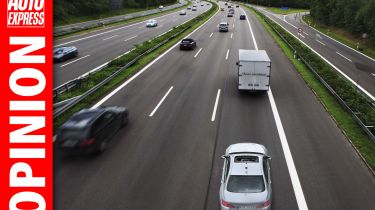 It's amazing how an imminent and potentially disastrous General Election can concentrate the mind of a hitherto sleepy politician. 
The 2015 campaign has effectively started. In turn, this has forced the UK's Secretary of State for Transport to wake up and address the 30-odd million car drivers he's barely acknowledged thus far.
There are grave doubts that the Conservative/Liberal Democrat Government in which Patrick McLoughlin languishes will be returned to power next year. So his job is on the line – and he's attempting to deliver some good news to those drivers he's now attempting to befriend. After all, most have voting cards up their sleeves.
"Let me be absolutely clear," he says with an apparent air of concern, honesty and enthusiasm that's been lacking in the past. "I want ALL motorways to run at 70mph."
• Subscribe to Auto Express magazine here
Fair enough, it's hardly an Election-winning statement, but it's a start. So 70mph it is then – for every driver, on every motorway, every day, right? Not exactly. "It sometimes makes sense to use variable limits," the Transport Secretary adds in his very next breath.
Or to put this another way, 70mph for all car drivers on all motorways is little more than a Paddy Mc pipedream. In reality, on many – perhaps most – M roads, he'll continue to hit his new car driving 'friends' with 60, 50 or even 40mph restrictions. Offenders will still be fined/endorsed. 
Anything more McLoughlin would like to make "clear"? "The highway network [is] to get an EXTRA 900 miles of capacity." That's an impressive level of 'new' road building. So where and when will all the additional roads be constructed? Paddy Mc's sidekick, roads minister John Hayes, steps in to answer: "The extra capacity will be achieved mainly by the use of smart motorways."
• Are car brands illegally giving better deals to business users?
And in official Government speak, a smart motorway is one that "converts" the hard shoulder to a driving lane. So most if not all of those "extra 900 miles" are existing lanes/shoulders. Important point, that. As is this: All the above is dependent on you, dear voter/driver, returning the Tory/Lib Dem coalition to office next year, and again in 2020. And the chances of that happening are diddly squat. 
Will the transport policy of the leading parties affect the way you vote in the election? What would you like to see done? Let us know in the comments section below, on Twitter or on Facebook.