"Put as much effort into choosing the right tyres as you would your next car"
Our tyre tests prove why safety should take priority over price, says Steve Fowler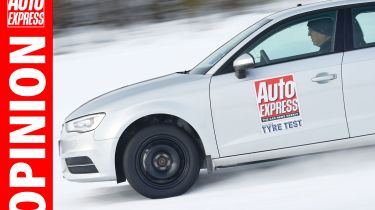 Strange things, tyres. They're one of the most important things you'll buy for your car, yet the chances are you'll not give enough thought to getting them replaced.  
It's madness really – would you go out for a walk in the snow in flat-soled shoes? Yet relatively few of us in the UK think about changing our tyres to suit the conditions. And even more worrying, most of us tend to buy on price rather than quality – crazy for a safety-related item.
Auto Express has long been the UK's foremost independent assessor of tyres – both in winter and summer tread patterns. There's nothing our man Kim Adams doesn't know about testing tyres, and he uses the very latest equipment, facilities and procedures to tell you what rubber your car should be wearing.
This year's tests are a must- read – whatever the long-range weather forecast may be, one thing's for sure: this winter will be very cold or very wet, and quite possibly both.
But while swapping between summer and winter tyres might not suit everyone, there is another option – all-weather tyres. Could they be about to become the next big thing? I've certainly had lots of E-mails about them recently. 
• Winter Special 2014/15
So much so, I've decided to give them a go myself on our family car at home – we've just fitted a set of Vredestein Quatracs, highly rated in our tests, to our car to see how they fare. Already, the peace-of-mind in knowing they'll work better than summer tyres on the already slippery roads is worthwhile – especially with the family on board.
If there's one thing to take away from our tyre tests, it's to take tyres seriously. Put as much effort into choosing the right tyres (and where to buy them) as you would when buying your next car.
Do you spend enough time choosing the right tyres for your car? Let us know in the comments below...