"The rental revolution has begun. Consumers may never want to buy a new car again"
Great car rental deals may spell the end for car ownership as we know it but that could still be great news for consumers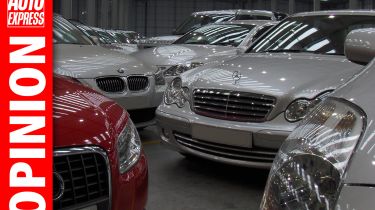 It's an often ignored fact that once the average private motorist has spent thousands buying or leasing his car, they park it up for around 90 per cent of its life. 
Cars are capable of running 24/7. But on a huge number of days, millions of consumers ignore their motors. And on those days or nights they do climb behind the wheel, it's typically only for an hour or two. Think about it – 12,000 miles annually equates to just 33 miles daily. So during the few minutes or hours per day/night when most people actually need to access cars, why not rent them?
• Opinion: "Spiritual successor to the original VW Beetle? The Citroen C4 Cactus is it"
Last week I was without a car, had few public transport options, so used my mobile phone to search for a recommended rental company. Within seconds, I found one. After five minutes, I'd received an E-mail confirming I'd booked a 1.4-litre five-door hatch, which was ready and waiting for me – at an all-in price (ie car plus basic insurance) of £7 a day. 
The firm that provided me with my bargain of 2014 wanted no credit card details in advance, didn't push me to buy additional insurance or hit me with mileage limitations. The hired car was nearly new, and spotlessly clean. 
Admittedly, I was in mainland Europe, not Britain, where vehicle hire can be more expensive. But, for example, Enterprise – a car rental giant not noted for piling highest and selling cheapest – charges from £11.99 per day, although adds that "rates of less than £11.99 may be available!"
• Opinion: "2014 was a great year for car fans, but 2015 will be even better"
Drive scores of days per annum and your total annual motoring costs could be well under £1,000. It also means that things like tyre wear, servicing, depreciation etc are not your problem. 
Meanwhile, a new scheme by Sixt/DriveNow enables motorists to drive BMWs on a pence per minute/maximum £20-an-hour basis. The more downmarket Zipcar fleet starts at £6 an hour. Not bad, but way too costly compared with the £11.99 per 24 hours/50p per hour rates the likes of Enterprise now offer in Britain several days per week. 
No doubt about it – the rental revolution has begun. The bigger it gets, the greater the economies of scale for car hire companies and, in theory, the lower prices will become for consumers... who may never need or want to own or lease a new car again. 
Is rental the future of the UK motor industry? Let us know what you think on Twitter, on Facebook or in the comments section below...