"Spiritual successor to the original VW Beetle? The Citroen C4 Cactus is it"
Mike names his Car of the People 2014/2015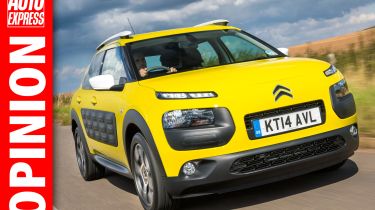 Before I name my Car of the People 2014/2015, it's worth reminding readers of the history and rules of the annual award. I make no apologies for admitting that it's inspired by the original Car of the People (or to be more precise, the people's car), the inaugural VW Beetle.
The current crop of COTP contenders need to be state-of-the-art, but widely available. Equally important is that they are inexpensive (not the same as cheap) to buy, as well as safe, credible and desirable. Fuel efficiency, low running costs and the ability to carry two adults and up to three children in a body that's around four metres long are key, as is the fun factor.
So what's inexpensive and what's fuel efficient? In the early 2000s, when COTP was born, £12,000 and a minimum of 50mpg were the key figures. Today, after steady inflation and impressive advances in engine tech, I'm thinking nearer £13,000 and a minimum of 60mpg.
Dacia, Hyundai, Mazda, Renault, SEAT, Skoda and a handful of others made it on to my shortlist. But on paper, in photos and on the road, it was Citroen's C4 Cactus which wiped the floor with the opposition.
True, Cactus isn't a great name. And some of its interior features (for example, rear windows that pop in and out rather than wind up and down) are frustrating and very French. But such negatives are outweighed by the long list of positives. Here is a car which is priced like a supermini but looks like (and is) a crossover cum mini-SUV cum family hatch cum van with windows cum poor man's 2WD Land Rover.
Its exterior design and design touches are genuinely unique, without being different for the sake of being different. The fact that it stretches beyond four metres means that it will easily accommodate two adults, three kids, 358 litres of luggage in the rear plus several surfboards, kayaks, mountain bikes etc on its roof. The base model costs around £13,000 before discounting. Even this petrol version has an official consumption figure of 60mpg-plus. Some of the diesels do more than 80mpg.
There has never been a more convincing winner of the Car of the People award than the state-of-the-art Citroen C4 Cactus. If you're looking for a spiritual successor to the original VW Beetle, this is it. 
Do you agree with Mike's choice for People's Car of the Year? Let us know on Twitter, on Facebook or in the comments section below...