"New drug-driving laws are a grotesque, ill-considered, state-sponsored mess"
We need separate drug-drive laws for legal and illegal users, says columnist Mike Rutherford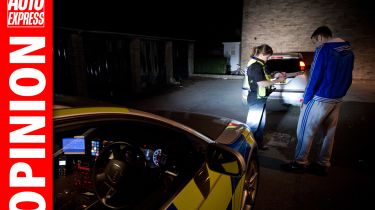 Drug-drivers usually fall into two very different – illegal and legal –camps. Broadly speaking, the first includes those who consume banned, unapproved narcotics. The second comprises motorists on authorised, tried and tested medication.
Those in category one are in a different world to those in group two. Not that the UK Government makes this crucial point clear in its "changes to the drug-driving law" introduced on 2 March.
• New UK drug-driving law: what you need to know
Why not introduce laws (plural) – one tough law for criminals who choose to drive while high on illegal substances, then a separate, more sympathetic one for folk who have little or no choice but to take the legal medication supplied to them by registered health professionals?
Through my work with the Marcus Rutherford Foundation, I know a surprisingly large percentage of patients with life-threatening illnesses have little or no support from family, friends or hospital transport services. Such patients therefore have to drive themselves to or from cancer and transplant wards for life-saving medication – often in the small hours.
Understandably, these and countless other innocent patients are scared. So imagine how much worse they'll have felt to hear the response from road safety charity Brake to the new law: "It will make it a criminal offence to drive with drugs in your body, removing the need [for police] to prove impairment and making it easier to prosecute drug-drivers."
• Driver gets 40 points without ever holding a licence
The UK Government piled on more misery by warning new penalties for "drug-driving" will include: "A minimum 12-month driving ban, a criminal record, a fine of up to £5,000 or up to six months in prison or both." And the consequences for those hit with these penalties? "Job loss, loss of independence, the shame of having a criminal record, increased car insurance costs and trouble getting into countries like the USA."
What a grotesque, ill-considered, state-sponsored mess. And what a missed opportunity. Drug-driving is an obvious problem. Central Government attempted to deal with it and failed, with a new 'law' that poses almost as many questions as it answers. Yet even if it was clear and workable, there's a hopeless shortage of front-line cops to enforce it.
Do you think that the new drug-driving law is appropriate? Let us know in the comments below...