"Cameron will have to do better if he's to win votes of 30m car drivers"
With an election imminent that could oust David Cameron, it's no surprise to Mike Rutherford that the PM is trying to befriend motorists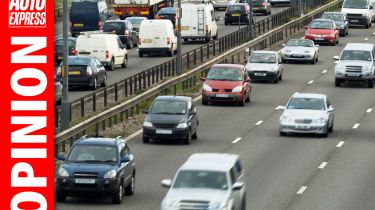 David Cameron's Conservatives have had ample opportunity – a full decade – to plan, design and build the improved road network Britain desperately needs.
Cameron was opposition leader from 2005-10 (when he should have done the planning). And he's been PM from 2010-15 (when he could have implemented his plans). But he didn't and hasn't.
If the roads I use and journeys I make are anything to go by, the network has got worse, not better. Journey times are slower, not faster. Toll fees cost more, not less. 
• England's busiest A-roads could become 'mini-motorways'
Drivers have paid his Treasury Department around £260billion in road user taxes during the five years he's been running Britain, yet the network remains woefully poor, congested and potholed. 
But 'ello, what's this? With an imminent General Election that could oust Cameron's Conservatives, he – surprise, surprise – is now trying to befriend motorists with almost daily 'promises' of newer, smoother, faster, safer, better-lit highways.
Here's a snapshot of how Government is trying to win the hearts, minds and votes of motorists before polling day: On 24 March, it announced hundreds of millions for local road improvements. On 23 March it pledged £56m, to enhance one road in Cornwall. The previous working day the propaganda machine fired on all cylinders, prompting one leading newspaper headline to scream: "New mini-motorways planned across UK." 
• Budget 2015: fuel duty freeze and £100m for driverless cars
Not true. Such "new" roads aren't new. They're at best old and at worst, very old because they're existing A-roads that will be renamed. Besides, the idea is an ancient one because we already have countless A-cum M-roads which are officially called A(M) roads. 
And it works the other way around, too. Ex-Transport Secretary John Prescott stripped highways such as the A102(M) of its motorway status by downgrading it to the A102. Now, almost two decades later, Cameron intends to waste yet more cash making it the new (but old!) A102M-M (mini-motorway). 
It's a nonsense because these routes aren't new and won't grow longer or wider. And it's an insult to the intelligence of the motorist to suggest these routes are anything other than old. Cameron will have to do better if he's to win the votes of 30m eligible car drivers and 10m passengers.
Is it too-little, too-late for David Cameron's efforts to improve the UK's road network? Have your say in the comments below...