"Let's not forget it's a key time for the car industry"
A critical Election is looming - deputy editor Graham Hope asks who is on the side of the motorist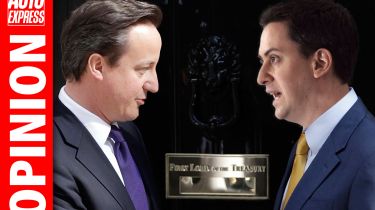 I'm sure you've probably noticed, but in just under a month's time, Britain is going to the polls in a General Election that is being hailed by both main parties – in a rare moment of unity – as the most "important in a generation".
Undeniably, with the economy, immigration and the NHS all requiring urgent attention, it does feel like a pivotal moment for our country. But let's not forget it's also a key time for the car industry and our general transport infrastructure, too.
After a sustained period of buoyant car sales, there is a real need to ensure the momentum continues, whoever is in Government. As Mike Hawes, the Society of Motor Manufacturers and Traders chief executive, told me in January, there is a concern that austerity measures could cause changes in taxation policy that affect sales of cars. "The sector isn't broke, so don't fix it," is his wish.
There is also the very real concern in some quarters about the amount of money being spent on the HS2 rail link, especially when we have a road network that many believe is not fit for purpose.
Unfortunately, the mainstream media is unlikely to put too much focus on these concerns, a point illustrated perfectly by the fact that transport is listed 15th out of 17 in a drop-down menu of key manifesto issues on the BBC website.
Rest assured, though, that Auto Express will be keeping you fully informed on all the big issues that affect you, the motorist, as the manifestos are published and the debating begins in earnest.
We'll be carrying all the parties' pledges on a special election page, which will be updated as and when a big story breaks, to ensure you're fully informed when the time comes to place your vote on 7 May.
Head over to our 2015 election round-up page to see more.