Get adventurous with the SEAT Leon X-PERIENCE 2.0 TDI (sponsored)
The ruggedness of the SEAT Leon X-PERIENCE is more than skin deep, as a spot of off-road geo-caching proves.
For ex-army man Malcolm Linton-Auteis from Headley, Hampshire, practicality is key, especially when it comes to cars. Whether tackling tight country roads on a twice-daily 30-mile commute, playing host to extended family or embracing the outdoors, any set of wheels must be rugged and resilient to gain approval.
So, when offered the keys to a SEAT Leon X-PERIENCE, it was an ideal match. The SEAT Leon X-PERIENCE builds on the family car functionality of the roomy estate shape of its sister model, the Leon ST. With added four-wheel drive and lots of boot space, the car was able to satisfy all of Malcolm's requirements.
But could it tempt him from his own executive saloon? Well, the ace in our sleeve was that in the two weeks of running the car, the Linton-Auteis family had a chance to indulge the SEAT in a shared passion: geo-caching.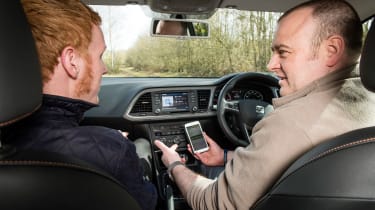 Geo-caching is like a huge worldwide treasure hunt, but instead of using cryptic maps, participants use GPS receivers or smartphones to hunt down caches. Once the small boxes have been located, the geocacher signs the logbook inside and shares their experience online.
Geo-caching is practiced by listing longitude and latitude numbers, and the SEAT Leon X-PERIENCE's in-built sat-nav system understands coordinates just as well as postcodes or other points of interest. Not only that, but the car's traffic alerts means you'll not waste any time stuck in traffic on route.
And it'll not stop once you leave the beaten track, because the SEAT Leon X-PERIENCE features panels designed to protect the paintwork and a raised ride height to cruise over rocks and ruts. A clever four-wheel drive system means that it'll handle even the most slippery terrain on the way to the geo-cache points.
Malcolm had a point to prove when we went caching on the North Wessex Downs. Pinning the exact location into the SEAT's sat-nav, we were soon out on foot having traversed testing terrain in the SEAT Leon X-PERIENCE. It didn't take long for Malcolm to add his name to the list of cache finders.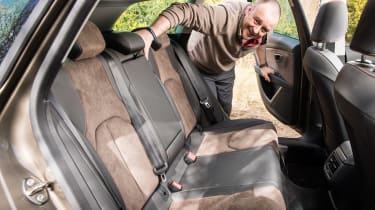 Personal quests aside, it's been a positive fortnight with the SEAT for Malcolm, as the SEAT Leon X-PERIENCE has blended effortlessly into his life. "It's been fantastic. It'd make a perfect car for my wife," he adds, eyeballing his current car.
He's found no end of uses for it during his time behind the wheel: "We've had four adults plus a child in there. We've done a lot of touring around the local area and I've used it for commuting to work. I've even taken it off-road in Bosworth Water in Leicestershire and it handled itself very well through mud and puddles. I've topped it up with diesel once in 800 miles, which is really good going.
"I really like what SEAT has done with the styling. In the interior, I love the layout of the dash, and the way the touchscreen sat-nav works is very intuitive and quick to learn."
With such a wide blend of talents, it's clear the SEAT Leon X-PERIENCE is able to slot straight into Malcolm's busy life.