"DIY car washing is another motoring tradition that's on its way out"
Columnist Mike Rutherford has noticed a new phenomenon of hand car washes in the UK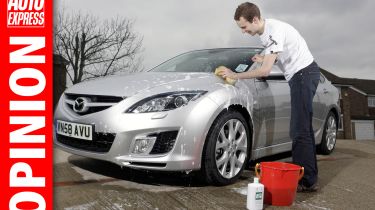 I can't remember the last time I saw a neighbour outside his or her family home, cleaning the family car.
There's good reason for this. DIY car washing is another motoring tradition that's on its way out. Instead of giving their cars a little TLC on Sundays, many people are doing boot fairs and brunch in the morning, then shopping malls or sports stadiums in the afternoon.
Three in four women and one in three blokes have never washed their cars, according to OSV, the vehicle leasing people. And those who have, do so only occasionally.
• "Car people are non-existent as far as our political parties are concerned"
Like DIY servicing, repairs and sound system installation, the home car washing ritual is, for the bulk of motorists, now toast.
Part of the problem is that vehicle numbers are growing while the amount of available road space isn't. This, plus tougher parking regulations, makes it increasingly difficult for motorists without drives to park outside their homes.
Other issues include hosepipe bans – although waterless washes do add a degree of convenience – the 'elf and safety' obsession, plus ecomental councils that object to house owners converting front lawns into parking bays.
Also – and they would say this wouldn't they? – car wash operators with little self interest at heart have been lobbying for a ban of on-street car washing. I don't mind admitting that the boss of a leading company selling car wash machines to fuel stations and other forecourts once told me that he'd a licence to print money.
• "The driverless car industry is destined to kill more jobs than it creates in Britain"
That's why the industry that's made him (at our expense) filthy rich is worth billions on a global scale.
Thankfully though, it's not all about automation. In an era when employment cuts are common and job creation rare, it's good to see that we have at least one fast-growing industry in Britain – the comparatively new phenomenon that is the 'hand car wash' business model.
Typically, it operates out of supermarket car parks or former filling stations, employing several hard-working car washers per site. No, it's not the best job going, but it's better than being on the dole, no?
Why spend an hour or more faffing about with buckets and sponges and hosepipes at home, when you can pay a crew of professional hand car washers as little as a fiver to wash your car in a few minutes?
Now read more Auto Express opinion pieces here.