"Reports of the death of the motorist are greatly exaggerated"
The growth of driverless cars doesn't mean the end of the motor industry, says columnist Mike Rutherford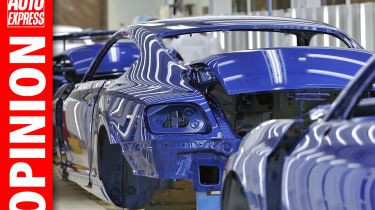 I've just chuckled my way through a 'serious' newspaper article that suggests cars might go the same way as the VHS cassette, the 35mm roll of film and other old tech which is now defunct.
The 'news story' was based largely on the views of an analyst at a bank with a controversial past in the UK high street. Apparently, his analysis says if driverless cars are a hit, America could see a 40 per cent drop in car sales. Eh? Ford would shut half its US plants. Really? There would be tens of thousands of job losses in the British motor industry. How come?
Truth is, over coming decades, demand for cars will grow. It's inevitable that hundreds of millions – maybe more – of additional employees and entrepreneurs will assume motorist status. Whether future vehicles will be driverless or require drivers is irrelevant. They'll still be cars. They will still be built in locations such as Ford USA factories – or in Britain. So what's all this rubbish about Ford halving its American operation and British auto workers being dumped on the dole?
• "The 20-year warranty is available in the US, and it could be bound for the UK"
The Society of Motor Manufacturers and Traders reports that 320,000 additional jobs will be created in and around British vehicle manufacturing over future decades. The mouthpiece for international motor manufacturers is OICA, which says global car production keeps on rising and currently stands at around 67.5 million per annum. That figure will rise – not least because the respected IHS automotive intelligence agency claims worldwide sales of new cars will nudge 130 million a year by 2035.
History proves that as countries develop, so, too, do job prospects, disposable incomes and the aspirations of citizens. Many of the 'poor' people of Asia and Africa, for instance, are getting richer. Like Americans and Europeans, they want, deserve and can afford cars. We're not daring to say we can have ours, but they can't have theirs, are we?
• "Toyota has put one over the VW Group when it comes to earning a shilling"
Let's face reality. The one billion new and used cars in the world aren't enough for the billions of world citizens who want them.
With this in mind, let's plan, design and build the tech that'll accommodate at least two billion cars. Forget what the newspaper and banking industries might, for their own reasons, be trying to brainwash you into thinking. Instead, remind yourself that reports of the death of the motor car and the motorist are greatly exaggerated.
Mike Rutherford is now on Twitter! Follow him for more: @The_Rutherford