"Toyota has put one over the VW Group when it comes to earning a shilling"
Mike Rutherford is impressed by hugely profitable Toyota, with it small number of brands beating VW's wide range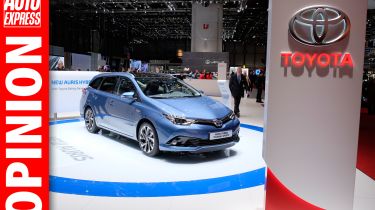 Asia is the new and undisputed king of car-making profitability – thanks to the money-making prowess of Japan, Korea, China and India.
Most of the firms who enjoy profits of billions of dollars annually now hail from this region. Subaru boasted a profit figure of $2bn last year. Comparing like with like, TATA's profit was $2.7bn, and Kia was just ahead of the Indian firm on $2.8bn.
Nissan ($4.3bn) was pipped by up-and-coming SAIC of China ($4.4bn), which already has Honda ($5.6bn) in its sights. And Hyundai has become the second most profitable car maker in Asia on $7.0bn – or $9.8bn if the profits of its adopted child Kia are included.
But Toyota takes the biscuit (or should that be the rice cracker?) with an annual figure of $19.1bn, making it the world's most profitable car company by a long way.
In North America, Ford ($3.2bn) and General Motors ($3.9bn) must be wondering where it all went wrong. Between them, these two are only making about as much as little ol' Hyundai of Korea these days. Who'd have ever thought it?
Over in Europe, Renault ($2.5bn) seems in surprisingly good nick given the political and other woes of France. And the BMW ($7.7bn) and Mercedes ($9.2bn) empires can't complain.
In one sense, neither can the Volkswagen Group ($14.4bn), which is the most profitable motor manufacturer in Europe and second globally. But the bean counters in Wolfsburg must be miffed, because although the VW Group is raking in more than Toyota in annual gross revenue ($268bn vs. $252bn), its profits are considerably lower. And another thing that irks the men in suits at the Group is that in order to make its profit of $14.4bn, it had to rely on a colossal portfolio of marques including supercar (Lamborghini and Bugatti), luxury (Bentley), sports (Porsche), premium (Audi), business class (Volkswagen), fun (SEAT) and value (Skoda) brands.
Yet Toyota's $19.1bn came from just two serious makes – Lexus and Toyota – plus the unlikely duo that go by the name of Daihatsu and Scion. VW Group might have the more glamorous, desirable and wider model range. But Toyota has clearly put one over its German rival when it comes to earning a shilling.
Mike Rutherford is now on Twitter! Follow him: @The_Rutherford