Skoda Superb and Suzuki Vitara top latest Euro NCAP tests
Superb is third car in 2015 to top five stars in tougher crash rating, while Fiat Panda Cross "failed to impress" and scraped three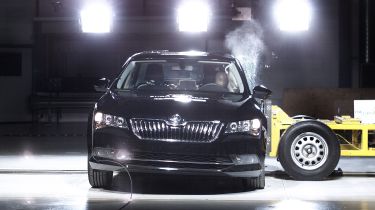 Results from the latest round of Euro NCAP crash tests have been revealed, and it's a success story for Skoda. The new Superb large saloon has achieved the maximum five star rating, but there was disappointment for Fiat as its Panda Cross 4X4 only managed three stars and was criticised by judges.
Skoda's new Superb, on sale now, impressed the Euro NCAP judges with its 86% safety rating in both adult and child protection, and its 71% pedestrian crash rating. The judges were also impressed by the firm's standard-fit safety assist systems, such as autonomous emergency braking.
Hyundai was also hoping for a five-star rating for its new i20 but missed its target and only gained four stars - it fell down due to its lack of autonomous safety systems. However, it did score well in terms of outright crash protection for both adults and pedestrians.
Fiat should have some cause for concern about the Panda Cross, which failed badly in terms in safety assist tech (it only comes with ESC and no additional systems) and, more worryingly, "failed to impress in Euro NCAP's latest full width crash test", and is awarded a three star rating.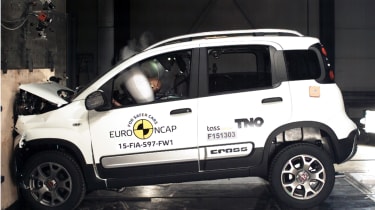 The results are disappointing compared to the ordinary Panda, which is currently rated as four stars, although they are more reflective of the increasingly stringent safety regulations that now place more emphasis on driver assist systems.
The Suzuki Vitara, tested earlier in April, also rated well for drive assist tech, but its five star rating was due to an outstanding 89 per cent showing in the adult occupant protection category.
Fiat's 500X crossover didn't quite match its Vitara rival in the April tests, achieving four stars. It wasn't far behind on its occupant protection score, but was again marked down for a lack of standard safety assist systems.
The Superb joins the Suzuki Vitara and the latest Renault Espace MPV (which isn't heading to the UK) as the only cars tested in 2015 that have achieved a five star rating so far.