"2015 has been a year to remember, but 2016 is year of the Brit"
Dieselgate scandal may have overshadowed a great 2015, but 2016 will be the year Britain reaffirms its industry dominance, says Steve Fowler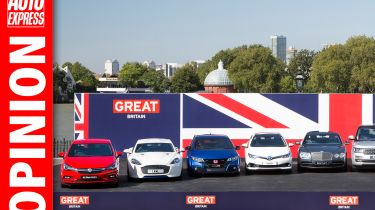 Who would've thought, this time last year, that the biggest motoring story of 2015 would be about the Volkswagen Group recalling more than 11 million cars because they cheated emissions tests?
One thing's for sure, that story will rumble on in 2016 as customers and potential buyers continue to voice their disapproval. The latest UK registration figures show VW down 19.9 per cent, Audi down 4.4 per cent, Skoda down 10.9 per cent and SEAT down 23.8 per cent – in a market up by eight per cent. Read into that what you will. 
It's a great shame, because the VW story has overshadowed what has been another stellar year for the car industry. In spite of VW's best efforts, it should still be a record 12 months for car sales with buyers enjoying a fantastic array of new models.
So if we look ahead, what does 2016 hold in store for us? I reckon it'll be a year when Britain reaffirms its position at the cutting edge of the global automotive stage – with cars like the new Vauxhall Astra, which we've dedicated an enormous special to.
The Astra is the new class leader and just happens to be designed by a Brit, developed in Britain and built here, too. So we've looked at the story behind the new car, talked to the people involved (from chief designer Mark Adams to the guys and girls on the factory floor) and looked back at previous Astras.
Britain's not only leading the way with brilliant mainstream models, its sports cars (take a bow McLaren) are leading the world, and its luxury brands (Bentley, Rolls-Royce, Jaguar and Land Rover) are in demand across the globe. It's all down to those who work for British car companies – at every level.
We're looking forward to bringing you the very best news, reviews and features in 2016. Thanks for being with us in 2015 and have an enjoyable and safe festive period.
What do you think about how Britain stands going into the new year? Leave us a comment below!