"I played spot the police car over Christmas, and didn't see one"
It's safe to conclude that only a few hundred traffic patrol cars are 'policing' Britain's 40 million vehicles, says Mike Rutherford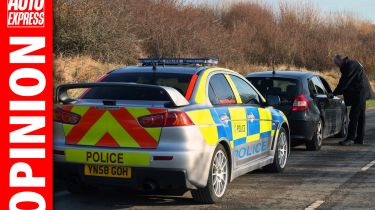 Months ago, I was wheeled into the TV studios of a global broadcaster and asked to comment on UK police forces cracking down – allegedly – on middle-lane hoggers. Then in the same studio in late December, my views were sought on another law enforcement blitz, this time against drivers using hand-held mobiles.
My comments on both days were similar: Crackdowns against hazardous offences are fine. But they're almost impossible to implement, because police officer numbers are massively down – at a 40-year low, according to some insiders. And as we exclusively revealed, full-time traffic cop jobs in England and Wales dropped from 5,327 to 3,742 between 2010 and 2015.
Police force accountants work on the basis that from 2010-2020, their funding is being slashed by round 40 per cent. The few remaining traffic cops can only work one shift per day/night. They have courts to attend and office work to complete. Factor in holidays, training courses, sick leave, shortages of vehicles and fuel etc, and it's safe to conclude that on some – perhaps most – days/nights only a few hundred patrol cars and officers are 'policing' almost 40 million vehicles.
With all this in mind, on my lengthy daily drives in England between Christmas Eve and New Year's Eve – the booziest week in the calendar – I played spot the police car. And I didn't see one! In turn, officers dealing with drunk or drugged drivers/riders, middle-lane hoggers, mobile phone offenders or tailgaters were also conspicuous by their absence.
True, a tabloid newspaper revealed that on 31 December, two uniformed officers were spotted inside their car in London. Trouble is, eyewitness accounts allege they were kipping coppers snoring the night away in the vehicle, which had its engine running to keep it toasty and, for good measure, was parked on a pavement. Around the same time, a senior Manchester cop was filmed using his hand-held mobile while driving.
• "It's been a great year for the car industry, so we're told..."
It's bad. Cops are demoralised and have gone missing. And, on the above evidence at least, on the rare occasions a few do appear on the streets, they're behaving lazily or illegally. Now desperate firms and private organisations who need more frontline officers on their patch are opting to foot the bill for them. How long before UK home owners and car users in cop-free areas are forced to do the same?
Do you agree with Mike? Have you seen many police cars recently? Let us know in the comments below!