"It's been a great year for the car industry, so we're told"
There may have been 2.6 million registrations in 2015, but that doesn't mean 2.6 million new cars on the road, says Steve Fowler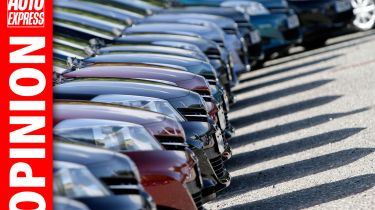 As we reveal in this week's issue (1,404) and right here, 2015 was a record year for car registrations with over 2.6 million cars getting their plates last year. But that doesn't mean 2.6 million cars found homes last year. There are tens of thousands of cars on forecourts or in fields, registered, counted, but without an owner.
Take a look on the classified sites of many major manufacturers and search for cars under a year old and with under 1,000 miles on the clock – you'll be amazed at how many 15 and 65-plate cars with few miles are for sale. And with some dealers cutting costs by advertising one nearly new car when they have two or three for sale, it's the tip of the iceberg. Who could be buying these cars and very quickly putting them up for sale? Not normal buyers.
• Can we you trust UK new car sales figures?
Of course, the pre-registration game is nothing new, but we're concerned with the current scale of it – industry pricing expert CAP reckons up to 15 per cent of registrations in some months were pre-reg.
But is that such a bad thing? They can be a great buy – as long as they're sold as second owner cars.
These cars can't be profitable for the car makers (although it's cheaper to 'sell' a car at a loss than slow factory production). And at a time when industry transparency is being called into question – Auto Express talked on your behalf to the Transport Select Committee on the very subject this week – shouldn't we see the true state of the market?
• "Motorists deserve respect in 2016, but they won't get it"
Undoubtedly, the market over the past year has been strong – and that's fantastic news. But by giving an inflated idea of just how strong can cause other problems. For example, the Bank of England will be looking closely at the figures as it seeks to balance our economy. And we know what happens if things look too rosy – interest rates go up. That's one reason we think it's important to see real sales figures.
Do you agree with Steve? Start the debate on Facebook, Twitter or in the comments section below!