"Motorists deserve respect in 2016, but they won't get it"
2015 ended on a high note, but 2016 won't be easy for motorists, says Mike Rutherford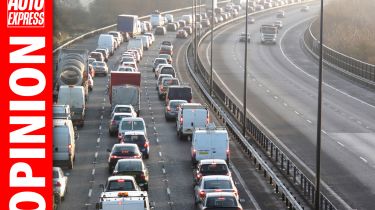 I've convinced myself 2015 ended on an optimistic note, that we must therefore be grateful for small mercies, then hope some of December's positives carry over to 2016. 
Fuel at £1 a litre, free Institute of Advanced Motorists driving sessions and zero per cent loans can surely be extended, can't they? The likes of TomTom and Jaguar announced significant tech breakthroughs. Kia, Land Rover, Mitsubishi and Peugeot showed their caring side with generous support for charities. And the normally lackadaisical DfT actually opened a new road (from Hastings-Bexhill in East Sussex) before "removing" 400 miles of UK roadworks. Allegedly.
• "2016 is crunch time for Italian car brands"
Don't kid yourself motorists will, in 2016, finally get the respect they deserve and have paid for. Politicians will still regard subsidised public transport travellers and cyclists as saints, while categorising unsubsidised car users as sinners. The construction of 'super highways' for untaxed and uninsured bicycles in London will spread to other urban areas. Prepare yourself for more car-free cities on some or all days.
Could 2016 be the year of the affordable all-electric car with a respectable range? Unless such EVs cover 150 miles on a charge, no. For now, stick with petrol, diesel, LPG – or an electric with back-up internal combustion power.
• "2015 has been a year to remember, but 2016 is the year of the Brit"
The VW debacle confirms what we've known for years – "official" MPG, emissions and range figures are farcical. Bin them and start from scratch. Copying the US Environmental Protection Agency's tougher, more meaningful rating system would be a positive step. What's stopping us? 
While we're at it, what's preventing the relaunched London Motor Show (5-8 May) establishing itself as one of the greatest shows on earth? Why is the BBC paying to dump Formula One? And will driverless road and race cars really be on the streets and circuits of Britain this year? For now, I don't have the definitive answers, but I can exclusively reveal that a rulebook-defying, small but huge urban car with a difference will arrive and make motoring history in 2016. Watch this space. 
The truth about the true cost of motoring will also be exposed, along with figures proving that were it not for hundreds of billions paid by motorists in car user taxes to HM Treasury, Britain PLC would face insolvency. Bullying politicians should remind themselves of this before cruelly attempting to cull cars and bludgeon the poor sods who drive them.
Do you agree with Mike? Join the debate on Facebook, Twitter or in the comments section below!