"2016 is crunch time for Italian car brands"
Some of Fiat Chrysler's bold targets come to fruition this year, but will they work? Graham Hope looks ahead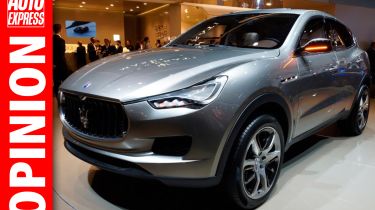 A new year always brings a sense of optimism and, of course, curiosity over how the next 12 months will pan out. That's especially true in the car world; who could have known, for example, what 2015 had in store for the beleaguered VW Group? 
There's a lot to be excited about in 2016, but it's another of the big European car-building empires that I'll be watching with particular interest, as it's no exaggeration to say that it really is time for the Italian brands in the Fiat Chrysler axis to deliver. Boss Sergio Marchionne has set bold targets for Fiat, Alfa Romeo and Maserati, and 2016 is the year when some of the plans will come to fruition.
• "Ford's fightback starts in the best way - with fast, affordable, fun"
At the top end of the company, Maserati will unveil the model that is ultimately tasked with doubling global sales to 70,000, the Levante SUV (which was of course previewed by a concept car in 2011, above). 
During a recent chat, Maserati's European general manager Giulio Pastore told me why the car is so critical. "There is no future for a company that makes only sports cars," he said. "Success is important, but we are confident. It's a true sports SUV that looks like a Maserati and sounds like a Maserati." He also stressed that it will be the brand's only SUV; a smaller model would occupy territory soon to be entered by Alfa.
• "We don't have enough roads for 60m people and 45m cars"
Of course, it, too, has a big 2016, as we will get the chance to see if the Giulia can kick-start Alfa's latest rebirth by delivering a drive to match the undoubted appeal of its looks. Let's hope it can, as in my view at least, the continued goodwill shown to this serially underperforming brand is wearing a little thin.
And finally, there's Fiat, whose 124 Spider has to prove a credible halo car and whose Tipo faces a stiff challenge to convince budget buyers. Can it really build anything without a 500 badge that has genuine appeal? 2016 will reveal all, and it's going to be fascinating to see how it all unfolds.
What do you think? Leave us a comment!