"Ford's fightback starts in the best way – with fast, affordable, fun"
The new Ford Mustang is a return to form for Ford after some recent wobbles, says Steve Fowler.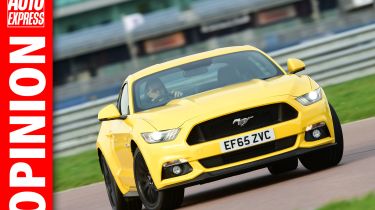 It's fair to say that Ford has lost its way a little over the past few years – models like the latest Mondeo don't have the sparkle of cars of old, while the 'One Ford' programme means we've had to suffer global cars like the EcoSport SUV.
But if there's one thing we Brits have always had a passion for, it's fast Fords – and 2016 is going to be a cracker on that score. In a few weeks, we'll be bringing you our verdict on the long-awaited new Focus RS. Before then, we've driven a car no less important to Ford – the first-ever right-hand-drive Mustang to be sold in the UK.
Yes, this is one of those global Fords, but this time we can celebrate a car that's everything a fast Ford should be – and some. Ford has listened to criticism of its global programme and acted.
• "Hyundai has been transforming how people buy cars"
The Mustang name has plenty to live up to, and this generation is one of the finest. Best of all is just how well it works over here – proving what fun we've been missing for all those years!
Sure, it's a little rough around the edges – cabin quality, for example – but for sheer impact, value and a surprising amount of sophistication to the drive (yes, even with an old-school 5.0-litre V8 under the bonnet) it's an easy car to fall in love with.
• "The true effect of the VW scandal has yet to emerge"
Fast, affordable fun is what Ford does best so it's great to be able to report that it hasn't lost its knack. I'm hoping that some of the fast Ford magic can rub off on the rest of the range, too – and there'll be plenty to see over the coming months. A revised Kuga is coming, as is a bigger SUV, the Edge. That's another One Ford product, but having poked around one in the US a few weeks ago, it's further proof that Ford is learning fast from its mistakes.
With Vignale starting to make waves in the UK, too, it looks like the good times could start rolling again for Ford in 2016. 
What do you think of the new Mustang and Ford's future prospects? Join the debate in the comments section below...