New Ford Focus RS: full details on 345bhp, 4x4 mega-hatch
The Ford Focus RS combines 345bhp with four-wheel drive and 'Drift mode' at a price tag under £30,000
The Ford Focus RS was one of the most eagerly awaited cars for 2016, and it's certainly lived up to expectations. It's on sale now, with the first deliveries arriving earlier this year, and we've got all the details and specs of this crazy mega-hot hatchback right here.
With a price only just over £30,000, you might not expect much, but Ford has given the new Focus RS sports-car-rivalling power with a turbocharged 2.3-litre four-cylinder engine. This will help it go onto a headline-grabbing 165mph top speed, with 0-62mph dispatched in just 4.7 seconds. Make no mistake, the new RS will be one seriously quick car.
• Ford Focus RS first drive review
Those performance figures give the Ford Focus RS the grunt to take on its main rivals including the Honda Civic Type R, Audi RS3 and Mercedes A 45 AMG.
Ford Focus RS: video
We've already been inside the new Focus RS for a passenger ride and that was enough to confirm the car's rare qualities. While the anticipation builds ahead of the first drive reviews, Ford has been happy to tease us with details of its new baby, including plenty of web videos.
The latest (above) is an explanation of the car's driving modes - including the infamous Drift Mode - by Ben Collins.
Other videos look behind the scenes of Ford's RS development programme and are intended to show the Focus RS, 'warts-and-all'. The clip below explains the exhaustive testing procedure that took the car everywhere from the scorching Arizona desert to freezing arctic wastelands. It even shows Ken Block giving the car a thorough work out.
Following the hugely positive response to the Ford GT supercar at the 2015 Detroit Motor Show, Ford aimed to instil some supercar thrills in the latest Focus RS with a flared nose and wheelarches as well as the essential aggressive stance.  
The latest model to wear the fabled RS badge  follows a long line of affordable but seriously high-performance Fords – a dynasty that started back in 1968 with the 15M RS and brought us legends like the Escort RS1600, Sierra RS Cosworth, Escort RS Cosworth and two Focus RS models before this.
• Best hot hatchbacks to buy now
The new all-wheel-drive Focus RS comes with a drift mode function that means 70 per cent of power can be sent to the rear end with all of that power able to be sent to a single wheel if required.
• We ride up the Goodwood hill in the Focus RS with Ken Block
Ford Focus RS 2015 gets all-wheel-drive
Bowing to pressure from key rivals like the Audi RS3 and Mercedes A 45 AMG, Ford's Performance division has fitted a sophisticated four-wheel-drive system to give optimum traction. The new Focus RS hot hatchback was designed with four-wheel drive in mind from the start to elevate the car to new levels of performance and driver involvement. 
Speaking to Auto Express at the unveiling of the new car, vice president global vehicle development, Raj Nair, told us that the Focus's clever all-wheel-drive system debuts a host of innovations for the brand and was needed to cope with the high power level of the car's 2.3-litre four-cylinder turbocharged EcoBoost engine.
Partnership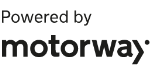 Need to sell your car?
Find your best offer from over 5,000+ dealers. It's that easy.
• Best hot hatchbacks to buy now
"Cost didn't come into it," said Nair. "It wasn't a case of engineers vs accountants, but that we wanted to make an affordable performance vehicle with the best technology possible – it needs to be a percentage above an ST. That's what an RS should be about."
The first major innovation is the hottest Focus's new electronically controlled twin-clutch four-wheel drive system. An aptly named 'drift' function allows up to 70 per cent of power to be sent to the rear wheels, with as much as 100 per cent of that driving torque sent to one individual wheel.
"This way you get great steering response but incredible pull out of the corner – and we can use the torque vectoring to keep the car safe and stable all the way through a bend." 
The second major innovation on the new RS Focus is the low weight of the new four-wheel drive transmission. It's thought the system only adds around 20kg to the car – a similar weight penalty to that which the clever RevoKnuckle front suspension setup added on the last generation RS. However, with Ford's latest Dynamic Torque Vectoring system, RevoKnuckle is now redundant. 
Ford Focus RS: 2.3 Ecoboost turbo engine
Under the standard Focus bonnet lies a 2.3-litre EcoBoost engine, which will be shared with this year's Mustang. But, unlike the US muscle car, the hatch gets a twin-scroll turbo with a larger compressor for better airflow, as well as a larger intercooler. And we're assured those sawn-off twin exhausts will emit deep-throated gargles, pops and crackles.
Power is 345bhp – that's 17bhp less than the 2.5-litre five-cylinder delivers in the RS3 but there could be the potential to up power even further in future with a limited-run model. The 2.3-litre EcoBoost 'red lines' at 6,800rpm, CO2 emissions are down 20 per cent on the old RS's Volvo-derived 2.5 five-cylinder and a six-speed manual box is standard.
As with most four-wheel drive cars, there will be an efficiency penalty. "We're not ready to talk fuel economy numbers just yet," vehicle development boss Raj Nair explained, adding that, "economy and emissions will be significantly better than we've seen in previous RS products." This means the new car could achieve as much as 35mpg.
• Geneva Motor Show 2015: preview
Focusing on "functional aerodynamics" has helped Ford improve efficiency by reducing drag and adding downforce to improve grip and handling.
The car's muscular bodykit – including a redesigned front bumper, grille and large rear spoiler – has been developed with this in mind and to aid cooling of the retuned engine.
New Ford Focus RS: colours and equipment
UK dealers shifted nearly 4,600 examples of the previous RS between 2009 and 2011, and Ford has similarly high hopes with this Mk3. Prices dip under the £30k barrier for the standard car, which will come with 19-inch alloys, Brembo brakes, Recaro sports seats and a range of sporty design touches; sat-nav and Recaro bucket seats will be optional, as will semi-slick track tyres.
Ford has confirmed that the Liquid Blue colour on the car in our pictures is only for the show model, but it's promising a new Nitrous Blue paint will be similar. Stealth Grey, Absolute Black and Frozen White will also appear, but the last RS's Ultimate Green finish has been dropped.
2015 Focus RS: on sale globally
On the outside, it's clear to see the RS is a serious piece of kit. The flared nose and rear spoiler hint at supercar-beating performance, but it's a more restrained look overall than its predecessor. And for that you have One Ford to blame – or thank, depending on your viewpoint.
This Focus RS will be the first to be available all around the world, rather than sold only in certain markets. Not surprisingly, the image of previous models – with their big wings, large wheels and gaping air scoops – doesn't translate that well internationally. But with a five-door body from the humdrum Focus, the new RS is more reserved than the previous model from six years ago.
Ford Focus RS: aggresive design
"We were told by the marketing department that we had to tone down the styling," explained Ernesto Rupar, Ford of Europe's supervisor for exterior design. "It was felt the old RS's look would be over the top for this new car. Everything you see on the new RS has been added for a purpose; there's nothing unnecessary.
"We went through around five designs to get to this – one of the designs had air vents on the bonnet, but they had no real purpose so they went."
The Focus' five-door layout has also prevented the use of a rally car-like wide body – a look that was so distinctive on the Focus RS Mk2. "We would have to have changed the door pressings to give it a wide body look, and that just wasn't on the agenda," said Rupar. "So, with no wide body, we had to concentrate on making the front and rear as sporty-looking as possible.
"We were looking at the RS3 and its classy style. We didn't want to make this car look like a boy racer's car." The front bumper is bespoke and has massive air vents at the corners that lead up to the gaping, flared grille. In the lower grille opening, even the intercooler is visible – a clear motorsport design cue.
• Ford Focus RS Cosworth - Most Wanted Cars 2014
Along the side, the RS details are few and far between – it's a near Focus ST copy. The Mk2's distinctive side vents with integrated RS badging have gone, too – the blue RS letters have moved to the rear spoiler's end plates. "We wanted to get the RS badge somewhere on the side, and I suggested the rear spoiler," said a beaming Rupar. "My dream car as a kid was the Ferrari F40 and that car had 'F40' on the wing, so I wanted it on the RS, too!"
The spoiler is just one part of the rear end's substantial makeover, however. The bumper – with its incorporated air diffuser, reversing light and two angled exhausts – is almost a carbon copy of the set-up on the old RS.
Full specifications will be revealed when the car makes its global debut at the Geneva Motor Show next month. But for now, it's clear to see the RS is back – and back with an almighty bang.
2015 Ford Focus RS live reveal on video
Ford Focus RS: the mega-hatches it needs to beat
The new Focus RS is the latest member of the burgeoning mega-hatch market - cars that seemingly defy convention with huge power outputs normally the reserve of sports cars and performance coupes.
• Invasion of the mega-hatches
It's not the only one, though. Here we reveal the other showroom-fresh performance models Ford will have to take on over the coming months...
Honda Civic Type-R
Engine: 2.0-litre 4cyl, front-wheel drivePower: 306bhp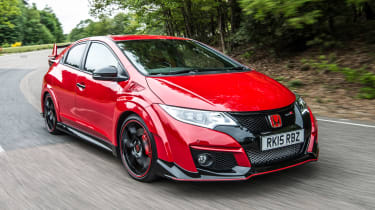 The Honda Civic Type-R is a 306bhp pocket-rocket which is one of the fastest front-wheel-drive cars on sale. It's got crazy styling that makes even the Focus RS look a bit pedestrian.
Mercedes A 45 AMG
Engine: 2.0-litre 4cyl, four-wheel drivePower: 376bhp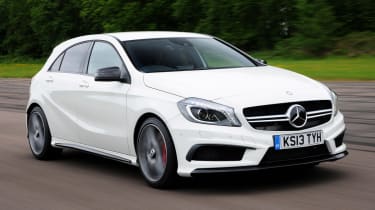 The little Mercedes-AMG A 45 is the benchmark performance hatch, and tuning arm AMG has upped the power even further to 376bhp.
Audi RS3
Engine: 2.5-litre 5cyl, four-wheel drivePower: 362bhp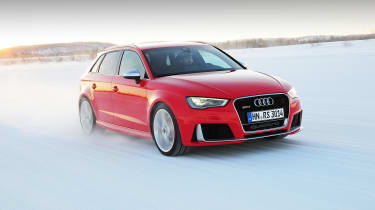 Latest Audi RS3 packs huge power and great practicality. The tuneful five-cylinder engine is great, although the estimated £40,000 price tag is a bit steep. 
VW Golf R400
Engine: 2.0-litre 4cyl, four-wheel drivePower: 395bhp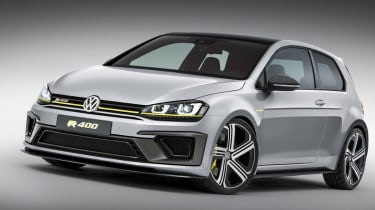 VW hasn't confirmed it's building the uber-hot Golf R400 yet, but the signs look good. Top speed would be limited to 174mph, with a 0-62mph time of 3.9 seconds. 
The new Ford Focus RS has some stiff competition on its hands. These are the 10 best hot hatchbacks currently on sale.