Invasion of the mega-hatches
The Ford Focus RS is back, but the battle for mega-hatch honours is hotter than ever.
The return of the Ford Focus RS is massive news, and with a rumoured 350bhp engine from the Ford Mustang under the bonnet, it's one of the many exciting new mega-hatches either on sale already or due in the next couple of years.
While the Ford Focus RS is undoubtedly a hot-proposition, there are a number of other mega hatches on the horizon - none of which is more hotly anticipated than the next Honda Civic Type R. The Honda doesn't have the power of the Focus RS or some of the other cars outlined here, but it's got an amazing heritage and – judging by the concept (pictured) – some seriously outlandish looks.
Many of these hot hatches are going four-wheel drive in the pursuit for faster 0-62mph times, while others – like the Type R – are targeting the front-wheel-drive Nurburgring lap record. The SEAT Leon Cupra currently holds this, but Renault is improving its Megane RS in a bid to reclaim the title and Honda is working to ensure the next Type R is the undisputed front-wheel drive king by the time of its launch next year – until the Focus RS arrives anyway.
Honda Civic type R
Due: mid 2015 | Price: £30,000 (est) | 0-62mph: 5.5 secs (est) | Power: 300bhp (est)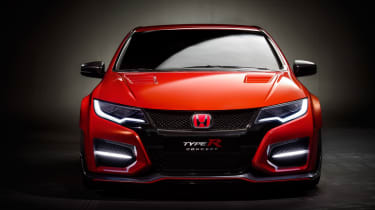 The Civic Type R is coming back, but it'll be quite different to any of its predecessors. The biggest news is that the screaming naturally aspirated i-VTEC engine is set to be replaced by a new 2.0-litre turbo.
Honda engineers are keen to get power above 276bhp, and with competition looking fierce, we wouldn't be surprised if it hit 300bhp.
We've already driven a prototype, and this revealed that the upcoming Honda Civic Type R is not only quicker than ever, but also a lot more usable.
Audi RS3
Due: early 2015 (est) | Price: £40,000 (est) | 0-62mph: 4.4 secs (est) | Power: 360bhp (est)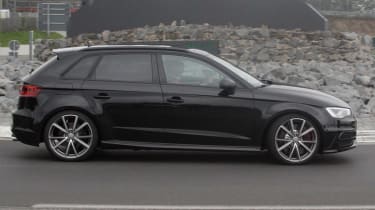 Audi already has an S3, but it's looking to crown the A3 range with a new RS3 model, which features wider tracks, more power and wilder looks. With quattro four-wheel drive, the new Audi RS3 should cover 0-62mph in less than 4.5 seconds.
BMW M135i
Due: now | Price: £30,835 | 0-62mph: 5.1 secs | Power: 316bhp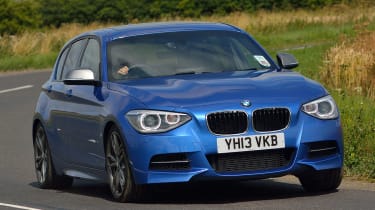 The BMW M135i takes a different approach to every other hot hatch here, as it favours rear-wheel drive. A 316bhp turbo engine and lively chassis have ensured the BMW M135i stands out as one of the best-handling cars on the road.
Renault Megane RS
Due: July 2014 (est) | Price: 30,000 (est) | 0-62mph: 5.8 secs (est) | Power: 270bhp (est)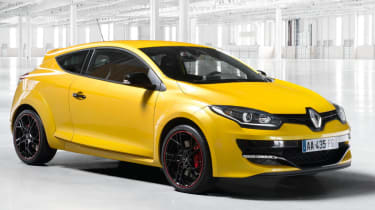 The new Renault Megane RS (or Renaultsport Megane) has been unveiled, and it now has 271bhp. Renault will also tackle the front-wheel drive Nurburgring lap-record in June 2014, and has hinted at a sub-eight-minute Nurburgring lap. If the latest Megane RS manages it, it would almost certainly see it reclaim the record from the SEAT Leon Cupra.
Mercedes A45 AMG
Due: now | Price: £38,190 | 0-62mph: 4.6 secs | Power: 355bhp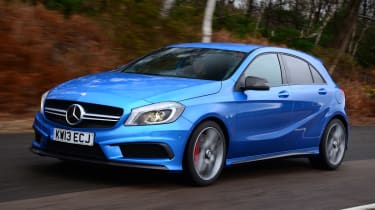 Until models like the Volkswagen Golf R 400 arrive, the Mercedes A45 AMG has the highest horsepower-per-litre figure of any production engine. With four-wheel drive, the baby AMG is also one of the quickest cars of this distinguished group.
SEAT Leon Cupra
Due: now | Price: £28,525 | 0-62mph: 5.7 secs | Power: 276bhp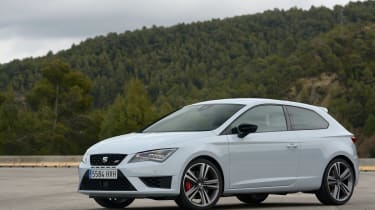 Until Renault shows its hand with the updated Renaultsport Megane later in the year, the SEAT Leon Cupra is the fastest front-wheel-drive car around the Nurburgring, with its 7 min 58 second lap. A 276bhp 2.0-litre turbo is the star, but a limited-slip diff comes as standard, too.
Vauxhall Astra Extreme
Due: Early 2015 (est) | Price: 35,000 (est) | 0-62mph: 5.2 secs (est) | Power: 325bhp (est)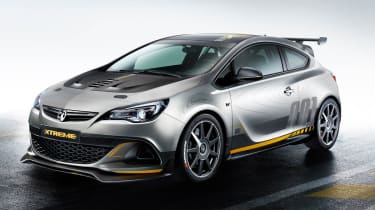 We know a new Astra is coming, but Vauxhall will take the current car out on a high with a limited-run Astra Extreme. A 2.0-litre turbo with around 325bhp is rumoured, as are lightweight materials and an aero kit.
Volkswagen Golf R 400
Due: Late 2015 | Price: 40,000 (est) | 0-62mph: 3.9 secs (est) | Power: 395bhp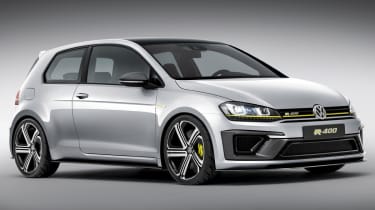 Volkswagen unveiled the Golf R 400 in concept form at the Beijing Motor Show, but the word from the top is that it's heading for a limited production run. The Volkswagen Golf R 400's power comes from a crazy 2.0-litre turbo engine, which produces 395bhp and standard four-wheel drive allows it to dip under the magic four-second barrier from 0-62mph